South Coast Maine Hiking
South Coast and Beaches of Maine is an ideal place for your outdoor adventure. The western portion of the South Coast Region is made up of many small communities that feature historic sites, lakes and rivers, including the Saco River renowned for canoeing, and numerous other opportunities for outdoor activities. The South Coastal Region has many trails along beaches as well as wetlands. The Rachel Carson National Wildlife Refuge is a unique hiking experience and for views of Maine and New Hampshire, check out Vaughn Woods State Park in South Berwick. Please share your Maine hiking comments. To feature your business, contact us.
South Coast Maine Hikes & Backpacking Trails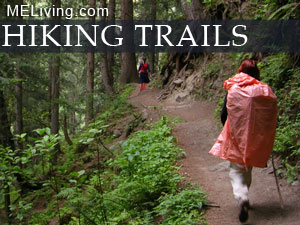 Marginal Way
Perkins Cove – Ogunquit
Ogunquit's famous ocean walk allows for spectacular views of the north Atlantic ocean, Ogunquit Beach and Maine's rocky coastline.
Ossipee Hill
McLucas Road, VIA Old Alfred Road
East Waterboro, ME
Ossipee Hill is a wooded peak with a subpeak featuring a collection of towers, including a closed fire lookout tower. Ossipee Hill has an elevation gain of 1,058 feet up a moderately steep slope. Total distance is 3.5 miles round trip. The summit has good views of Ossippee Valley, Waterboro and Alfred.
Rachel Carson National Wildlife Refuge, Upper Wells Division
Between Wells and Kennebunkport
Wells, ME
Ph: 207-646-9226
A self-guided interpretive trail winds around the salt marsh. Salt marshes are uncommon in Maine because most of the coastline is unprotected from heavy waves; the grasses that build marshes need a stable environment. So these marshes, protected by the Rachel Carson National Wildlife Refuge, are environmental treasures. The educational value and sheer beauty of this hike makes it a must for families with children and the walk is accessible to people in wheelchairs. The trail is a 1 mile loop with minimal elevation gain.
Vaughn Woods State Park
28 Oldfields Road
South Berwick, ME
Vaughn Woods is a 250-acre forested park on the Salmon Falls River in the southern-most part of the state and near the Maine-New Hampshire border. Hiking trails are abundant and consist of several different, connected tracts that total more than 3 miles. The total elevation gain is approximately 200 feet, so the hike is great for families looking to take a more casual stroll and view the wildlife and Salmon Falls, a 25 foot waterfall that divides South Berwick, Maine, and Rollinsford, New Hampshire.
Did we miss something?
Add your update or comment.
inns | hotels | resorts | rentals | attractions | dining | real estate
Pet Friendly Lodging | Personals
Maine Weddings | Visit Maine Towns
New England Living Magazine | New England Hikes
Free World Mall

Country Weddings | New England Recipes
Maine Inns | Red Sox Gifts | Travel Destinations