Ogunquit, Maine 03907
Ogunquit, ME Vacations Inn Lodging, Real Estate, Dining & Visitor Information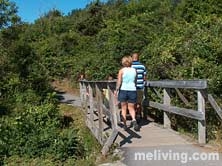 Ogunquit, Maine is a popular south coast Maine destination, located on busy US Route 1. Ogunquit has a wide selection of vacation lodging available. Ogunquit's famous Perkins Cove is one of the most picturesque coves in all of Maine. The town name Ogunquit is Micmac for "lagoons within sand dunes" or Abenaki for "place of waves." Marginal Way is a famous seaside walkway that connects downtown Ogunquit with Perkins Cove.


Beachmere Inn, 62 Beachmere Place, Ogunquit, ME 03907 | 207-646-2021
Ocean front accommodations in the heart of Ogunquit on the Marginal Way with breathtaking ocean views. Luxury suites and unique rooms, fireplaces, kitchenettes, private balconies or patios. Enjoy an on-site spa, exercise room and hot tub. Reception rooms for weddings, meetings and events. Beachmere Inn is a leader in guest services, event coordination and hospitality. A stunning location perfect for weddings, elopements, vow renewals, rehearsal dinners, bridal showers and even bachelor - bachelorette weekend getaways. Open year round. Walk to everything in town or enjoy drinks from our ocean view Blue Bistro.
Visit Beachmere Inn - Ogunquit ME
---


Ogunquit Playhouse, 10 Main Street, US Route 1, Ogunquit, ME 03907 | Downtown Box Office 207-646-5511
America's Foremost Summer Theater began in a renovated garage in Ogunquit's town square in 1933. Ogunquit Playhouse is dedicated to producing the finest shows ever to appear on Broadway stages. Visit the web site to see this years show schedule and purchase tickets online.
Visit Ogunquit Playhouse
---


Jonathan's OGT, 92 Bourne Lane, Ogunquit, Maine 03907 | 207-646-4777
Serving upscale New England cuisine, Jonathan's Ogunquit, caters to those diners looking for fresh seafood, classic European dishes, grilled steaks and more. Diners prefer Jonathan's for a romantic date night, to celebrate a special birthday or enjoy an evening of farm to table gastronomy before a show. Jonathan's offers dining, events, and concerts. Featuring local food products wherever possible and focuses on serving fresh, New England products. Jonathan's slogan has always been to #eatwell.
Visit Jonathan's OGT - Ogunquit, ME
---


Roberto's, 200 Shore Road, Ogunquit, Maine 03907 | 207-646-8130
Roberto's is committed to making every dish memorable and that feeds not only the body, but feeds the spirit as well. Delicious hardy portions that are truly crave worthy. An extensive menu of all your favorite Italian dishes cooked authentically to give you that real taste of Italy.
Visit Roberto's - Ogunquit, ME
---


Ogunquit Beach Lobster House, 1111 Beach Street, Ogunquit, ME 03907 | 1-207-360-2286
Enjoy a Maine lobster meal you will will want again and again, with succulent lobster you can taste, not buried in overwhelming seasonings or paired with inappropriate accompaniments. We make it to your taste, even if only seasoned with our healthy Maine salt air! Dine-In, or Take-Out. Seasonally Open 7 days a week from Noon - 8:00pm
Visit Ogunquit Beach Lobster House - Ogunquit, ME
---
The Marginal Way walkway offers spectacular Atlantic ocean views and is dog friendly. Ogunquit Beach is one of the widest oceanfront beaches in Maine. The Ogunquit Beach Parking Lot is located within walking distance of the beach. Admission is charged to park your vehicle. The Ogunquit Playhouse is one of the most visited attractions in Maine. The Playhouse features live theater performances from June thru October.
The Ogunquit Playhouse is on the US Register of Historic Places. Ogunquit has a nice selection of restaurants. The summer and fall months can be quite busy. Advance reservations are strongly suggested, especially during July, August, and September.
To share your Ogunquit, Maine business information, contact us.
Ogunquit, Maine: A Charming Coastal Haven of History, Natural Beauty, and Vibrant Culture
Nestled on the picturesque coast of southern Maine, Ogunquit is a captivating destination that offers a unique blend of history, natural beauty, and vibrant culture. This charming town boasts pristine beaches, a thriving arts scene, and an array of attractions that cater to both outdoor enthusiasts and art lovers alike. Whether you're planning a vacation or considering relocating, Ogunquit has something for everyone.
Brief History of Ogunquit:
Ogunquit, which means "beautiful place by the sea" in the indigenous Abenaki language, has a rich history dating back thousands of years. Native American tribes, including the Abenaki and the Algonquins, inhabited the area long before European settlers arrived in the 1600s. In the 1800s, Ogunquit became a popular summer resort destination, attracting artists, writers, and intellectuals seeking inspiration from its stunning coastal landscapes. Today, Ogunquit retains its artistic heritage while embracing its role as a premier tourist destination.
Neighborhoods and Villages:
Ogunquit is divided into several distinct neighborhoods, each with its own character and charm. The downtown area is the heart of the town, offering a vibrant mix of shops, restaurants, and art galleries. Perkins Cove, a historic fishing village, is a must-visit destination with its picturesque harbor, quaint shops, and renowned seafood restaurants. The Village, also known as the "Town Center," is home to the Ogunquit Playhouse, one of the oldest summer theaters in the United States. Other neighborhoods, such as Cape Neddick and Moody, offer a more residential atmosphere while still providing easy access to Ogunquit's amenities.
Oceanfront Hotels:
Ogunquit is renowned for its exceptional oceanfront accommodations. The town boasts a wide range of hotels and resorts that offer breathtaking views of the Atlantic Ocean. Beachmere Inn, a historic inn perched atop a cliff, provides guests with a luxurious and tranquil retreat. From elegant boutique hotels to family-friendly resorts, Ogunquit offers a variety of options to suit every traveler's preferences.
Beaches:
Ogunquit's pristine beaches are a major draw for visitors. Ogunquit Beach, with its three miles of white sand and crystal-clear waters, consistently ranks among the top beaches in the United States. The beach is ideal for sunbathing, swimming, and strolling along the shoreline. Footbridge Beach, a short distance from Ogunquit Beach, offers a more secluded and serene atmosphere. Both beaches provide stunning views of the Atlantic Ocean and are easily accessible from the town center.
Employers:
Ogunquit's economy thrives on tourism, hospitality, and the arts. The town's vibrant tourism industry provides numerous employment opportunities, particularly in hotels, restaurants, and retail establishments. The Ogunquit Playhouse, a renowned summer theater, employs a significant number of actors, directors, and production staff during its season. Additionally, Ogunquit is home to a variety of small businesses and service providers that contribute to the local economy. If you're looking for work, you will likely find employment, especially during the busy summer season.
Places of Interest and Attractions:
Ogunquit offers a plethora of attractions and places of interest for visitors. Marginal Way, a scenic walking path that spans 1.25 miles along the rugged coastline, provides breathtaking views of the ocean and picturesque landscapes. Perkins Cove, with its charming shops, art galleries, and seafood restaurants, is a popular spot for leisurely strolls and boat tours. The Ogunquit Museum of American Art showcases a remarkable collection of American art in a beautiful seaside setting. For nature enthusiasts, Mount Agamenticus Conservation Region offers hiking and biking trails, as well as stunning panoramic views from its summit.
Nightlife and Entertainment:
Despite its small size, Ogunquit boasts a lively nightlife scene. The town features a variety of bars, clubs, and live music venues that cater to different tastes and preferences. From cozy pubs offering local craft beers to energetic dance clubs with live DJs, Ogunquit offers options for every night owl.
Things to Do and Outdoor Activities:
Ogunquit's natural beauty and recreational opportunities make it a haven for outdoor enthusiasts. In addition to its stunning beaches, the town offers a range of activities such as kayaking, paddleboarding, and sailing along the coast. Ogunquit's proximity to nature preserves and state parks provides ample opportunities for hiking, birdwatching, and wildlife spotting. Fishing charters and whale-watching tours are also popular activities for visitors seeking an unforgettable coastal experience.
Planning an Ogunquit, Maine Vacation:
When planning a vacation in Ogunquit, consider the following tips:
Accommodations: Choose from a range of oceanfront hotels, resorts, and charming bed and breakfasts to suit your preferences and budget.
Dining: Explore the diverse culinary scene, which includes fresh seafood, farm-to-table restaurants, and local eateries serving delicious Maine cuisine.
Attractions: Plan visits to must-see attractions such as Marginal Way, Perkins Cove, and the Ogunquit Playhouse.
Consider exploring the vibrant art galleries and museums in the area.
Outdoor Activities: Take advantage of Ogunquit's natural beauty by engaging in beach activities, coastal walks, or outdoor adventures in nearby parks.
Events and Festivals: Check the town's event calendar for festivals, live performances, and special events happening during your visit.
Town Statistics and Relocation Information:
For those considering relocation, Ogunquit offers a high quality of life in a close-knit community. The town has a population of approximately 1,200 residents and boasts low crime rates, excellent schools, and access to quality healthcare. Ogunquit's real estate market consists of a mix of historic homes, cozy cottages, and modern condominiums. The town's proximity to larger cities such as Portland and Boston, MA provides residents with additional amenities and employment opportunities.
Ogunquit, Maine, with its rich history, stunning beaches, vibrant arts scene, and welcoming community, offers an idyllic destination for visitors and a charming place to call home. Whether you're seeking a relaxing beach getaway, an outdoor adventure, or a cultural experience, Ogunquit has it all. Plan your visit or consider making this coastal gem your new home to enjoy the best that Maine has to offer.
Incorporated: 1641
County: York
Ogunquit, Maine Population 2010: 1,429
GPS Coordinates:
Latitude: 43.250278
Longitude:-70.598333
Ogunquit ME Local Information:
Ogunquit Police Dispatch: 911
Kittery Fire Department: 207-646-5112
Public Works: 207-646-2062
Town Clerk Telephone: 207-646-5139
Official Ogunquit ME Website: townofogunquit.org
inns | hotels | resorts | rentals | attractions | dining | real estate
| Photo | Title | Price | Buy |
| --- | --- | --- | --- |
| | Ogunquit (Then and Now) | $24.99 | On Sale Now |
| | Ogunquit Maine Tote Bag | $22.99 | On Sale Now |
| | Ogunquit Maine Gifts Ogunquit Maine Throw Pillow, 18x18, Multicolor | $24.99 | On Sale Now |
| | 3dRose Maine, Ogunquit, Perkins Cove, boat harbor - Museum Grade Canvas Wrap (cw_251086_1) | $22.49 | On Sale Now |
| | Womens Ogunquit, Maine Lobster V-Neck T-Shirt | $19.99 | On Sale Now |
| | Ogunquit Maine Graphic T T-Shirt | $22.99 | On Sale Now |
| | Ogunquit Maine ME Vintage Nautical Waves Design T-Shirt | $16.99 | On Sale Now |
| | Ogunquit Perkins Cove Maine USA Christmas Ornament Travel Souvenir Personalized Christmas Tree Pendant Hanging Decoration | $12.88 | On Sale Now |
| | Ogunquit ME Sailboat T-Shirt Vintage Nautical Throwback Tee | $16.99 | On Sale Now |
| | Ogunquit Maine Vintage Nautical Crossed Oars Sweatshirt | $31.99 | On Sale Now |
| | Ogunquit, Maine Lobster Raglan Baseball Tee | $23.99 | On Sale Now |
| | Ogunquit Maine T-Shirt, Coastal Town Maine Shirt | $19.00 | On Sale Now |
| | NAUTICAL Anchor Ogunquit Maine Travel Vacation T-Shirt | $19.99 | On Sale Now |
| | Ogunquit Maine ME Vintage American Flag Sports Design T-Shirt | $16.99 | On Sale Now |
| | 4 Panel ogunquit, Maine, USA maines and Pictures Canvas Wall Art Ocean Oil Painting Animal Prints City Poster Flower Pictures Home Wall Decoration for Artwork | | On Sale Now |
| | College Style Ogunquit Maine Souvenir Gift Sweatshirt | $37.99 | On Sale Now |
| | Ogunquit Maine Tonal Type Sweatshirt | $35.99 | On Sale Now |
| | Ogunquit Maine Vintage Nautical Crossed Oars Navy Sweatshirt | $31.99 | On Sale Now |
| | Ogunquit By-The-Sea | $31.89 | On Sale Now |
| | Ogunquit Maine Vintage Nautical Crossed Oars Tank Top | $19.99 | On Sale Now |
| | Ogunquit Maine ME Vintage Sailboat Retro 70s Pullover Hoodie | $32.99 | On Sale Now |
Pet Friendly Lodging | Personals
Maine Weddings | Visit Maine Town Guides
New England Living Magazine
Free World Mall

Country Weddings | Travel Destinations