Ogunquit, Maine 03907
Ogunquit, ME Inn Lodging, Real Estate, Dining & Visitor Information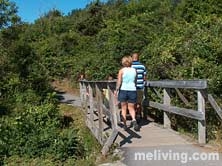 Ogunquit, Maine is a popular south coast Maine destination, located on busy US Route 1. Ogunquit has a wide selection of vacation lodging available. Ogunquit's famous Perkins Cove is one of the most picturesque coves in all of Maine. The town name Ogunquit is Micmac for "lagoons within sand dunes" or Abenaki for "place of waves." Marginal Way is a famous seaside walkway that connects downtown Ogunquit with Perkins Cove.


Beachmere Inn, 62 Beachmere Place, Ogunquit, ME 03907 | 207-646-2021
Ocean front accommodations in the heart of Ogunquit on the Marginal Way with breathtaking ocean views. Luxury suites and unique rooms, fireplaces, kitchenettes, private balconies or patios. Enjoy an on-site spa, exercise room and hot tub. Reception rooms for weddings, meetings and events. Beachmere Inn is a leader in guest services, event coordination and hospitality. A stunning location perfect for weddings, elopements, vow renewals, rehearsal dinners, bridal showers and even bachelor - bachelorette weekend getaways. Open year round. Walk to everything in town or enjoy drinks from our ocean view Blue Bistro.
Visit Beachmere Inn - Ogunquit ME
---


Ogunquit Lobster Pound Restaurant, 504 Main Street, U.S. Route 1, Ogunquit, Maine 03907 | 207-646-2516
Established in 1931 the Ogunquit Lobster Pound has been proudly serving the best Maine lobster for generations. Choose your own live lobster to be boiled in seawater in the traditional Maine fashion or try one of the many offerings from our full menu. Open for Dinner every day at 5pm. We do not accept reservations.
Visit Ogunquit Lobster Pound - Ogunquit, ME
---


Ogunquit Playhouse, 10 Main Street, US Route 1, Ogunquit, ME 03907 | Downtown Box Office 207-646-5511
America's Foremost Summer Theater began in a renovated garage in Ogunquit's town square in 1933. Ogunquit Playhouse is dedicated to producing the finest shows ever to appear on Broadway stages. Visit the web site to see this years show schedule and purchase tickets online.
Visit Ogunquit Playhouse
---


Jonathan's OGT, 92 Bourne Lane, Ogunquit, Maine 03907 | 207-646-4777
Serving upscale New England cuisine, Jonathan's Ogunquit, caters to those diners looking for fresh seafood, classic European dishes, grilled steaks and more. Diners prefer Jonathan's for a romantic date night, to celebrate a special birthday or enjoy an evening of farm to table gastronomy before a show. Jonathan's offers dining, events, and concerts. Featuring local food products wherever possible and focuses on serving fresh, New England products. Jonathan's slogan has always been to #eatwell.
Visit Jonathan's OGT - Ogunquit, ME
---


Roberto's, 200 Shore Road, Ogunquit, Maine 03907 | 207-646-8130
Roberto's is committed to making every dish memorable and that feeds not only the body, but feeds the spirit as well. Delicious hardy portions that are truly crave worthy. An extensive menu of all your favorite Italian dishes cooked authentically to give you that real taste of Italy.
Visit Roberto's - Ogunquit, ME
---
The Marginal Way walkway offers spectacular Atlantic ocean views and is dog friendly. Ogunquit Beach is one of the widest oceanfront beaches in Maine. The Ogunquit Beach Parking Lot is located walking distance to the beach. Admission is charged to park your vehicle. The Ogunquit Playhouse is one of the most visited attractions in Maine. The Playhouse features live theater performances from June thru October. The Ogunquit Playhouse is on the US Register of Historical Places. Ogunquit has a nice selection restaurants. The summer and fall months can be quite busy. Advance reservations are strongly suggested, especially during July, August and September.
To share any Ogunquit, Maine information with us, contact us. Learn more about advertising in MELiving.
Incorporated: 1641
County: York
Ogunquit, Maine Population 2010: 1,429
GPS Coordinates:
Latitude: 43.250278
Longitude:-70.598333
Ogunquit ME Local Information:
Ogunquit Police Dispatch: 911
Kittery Fire Department: 207-646-5112
Public Works: 207-646-2062
Town Clerk Telephone: 207-646-5139
Official Ogunquit ME Website: townofogunquit.org
inns | hotels | resorts | rentals | attractions | dining | real estate
Ogunquit, ME Living Resources

Ogunquit, ME Airports
Ogunquit, ME Art Galleries
Ogunquit, ME Autos
Ogunquit, ME Camping
Ogunquit, ME Golfing
Ogunquit, ME Microbreweries
Ogunquit, ME Shopping
Ogunquit, ME Theaters
Ogunquit, ME Antiques
Ogunquit, ME Attorneys
Ogunquit, ME Classifieds
Ogunquit, ME Hiking
Ogunquit, ME Inns
Ogunquit, ME Museums
Ogunquit, ME Skiing
Ogunquit, ME Weather
Ogunquit, ME Apple Orchards
Ogunquit, ME Attractions
Ogunquit, ME Beaches
Ogunquit, ME Dining
Ogunquit, ME Hotels
Ogunquit, ME Radio Stations
Ogunquit, ME State Parks
Products | Events | Attractions
Pet Friendly Lodging | Personals
Maine Weddings | Visit Maine Towns
Free World Mall

Country Weddings | New England Recipes
Maine Inns | Red Sox Gifts | Travel Destinations