Maine Breweries & Brew Pubs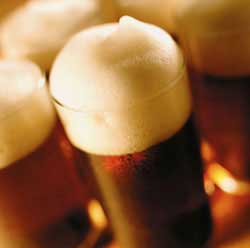 The great state of Maine is a great state for beer lovers. Mainers love great beer and fortunately, Maine is home to amazing breweries and brewpubs. A Maine Beer Tour is a tasty way to visit Maine. We'll help you by suggesting some of Maine's top-selling and highest-rated beer makers.
Maine Brewers now offer a wide of locally crafted beers, ales, pilsners, IPAs, and more than just a few surprises.
There are more than 150 active, and licensed breweries in Maine crafting more than 100 different brews. The use of local hops is on the rise with the Hop Yard in Gorham and Aroostook Hops in Westfield providing local produce for Maine beer makers.
Ask us about planning a Maine vacation or share Maine business news and reviews. To feature your Maine brewery or brewpub, contact us.
Maine Breweries & Brew Pubs
A selection of suggested Maine Breweries.
GFB Scottish Pub
32 Old Orchard Street
Old Orchard Beach, ME 04064
207-934-8432
A great beach deserves a great "beach pub" – Old Orchard's only brewpub serves up local brews, food, and fun.
Allagash Brewing Company
50 Industrial Way
Portland, ME 04103
800-330-5385
To take a tour, book it online to ensure your spot is saved. You can book online here: http://www.allagash.com/visit/#tours
Sebago Brewing Company
616 MAIN ST
Gorham, ME 04038
207-856-2537
sebagobrewing.com
Sebago Brewing is known for Frye's Leap IPA, an American-style IPA. Runabout Red is a malty, sweet, favorite. Portland, Kennebunk, Gorham locations.
Maine Beer Company
525 US Route 1
Freeport, ME 04032
207-221-5711
mainebeercompany.com
Hoppy American Ales a specialty
Shipyard Brewing Company
86 Newbury Street
Portland, ME 04101
shipyard.com
1994 by Fred Forsley and Master Brewer Alan Pugsley. Portland brewery and at Federal Jack's Brew Pub in Kennebunk Harbor.
Maine Brewers Guild
PO Box 2817
South Portland, ME 04116
The Maine Brewers Guild provides information about beer making and Maine brewers and suppliers. Visit their website for more information.
mainebrewersguild.org
Bissell Brothers Brewing Co.
4 Thompsons Pt Ste 108-109
Portland, Maine, 04102-2633
207- 279-0346
bissellbrothers.com
Beer to go.
Tributary Brewing Company
10 Shapleigh Rd
Kittery, Maine, 03904
207- 703-0093
tributarybrewingcompany.com
SHOP 24/7 at FREEWORLDMALL

| Photo | Title | Price | Buy |
| --- | --- | --- | --- |
| | Beer Mugs Set,Glass Mugs With Handle 16oz,Large Beer Glasses For Freezer,Beer Cups Drinking Glasses 500ml,Pub Drinking Mugs Stein Water Cups For Bar,Alcohol,Beverages Set of 8 KTZB02… | $27.99 ($3.50 / Count) | On Sale Now |
| | COKTIK 4 Pack Heavy Large Beer Glasses with Handle - 14 Ounce Glass Steins, Classic Beer Mug glasses Set | $24.99 ($6.25 / Count) | On Sale Now |
| | Host Freeze Beer 16 ounce Freezer Gel Chiller Double Wall Plastic Frozen Pint Glass, Black & Grey-Set of 4 | $41.49 ($10.37 / Count) | On Sale Now |
| | Bormioli Rocco 4-Pack Solid Heavy Large Beer Glasses with Handle - 17.1/4 Ounce Glass Steins, Traditional Beer Mug glasses Set, Perfect Coffee - Tea Glass, Everyday Drinking Glasses, Cocktail Glasses | $54.71 ($13.68 / Count) | On Sale Now |
| | luxail Freezer Beer Mugs, Double Wall, Insulated Gel Plastic Pint Freezable Glasses, 16 oz, Clear 2 pack , Chiller Frosty Cup, Frozen Ice Freezer Mug, Freezer Cups | $24.99 ($12.50 / Count) | On Sale Now |
| | PARNOO Classic Simple Beer Mug Set, Beer Mugs with Handles, Glass Beer Steins, Freezable Beer Glasses, Beer Mug 15 Ounces, 4 Count (Pack of 1) | $21.00 ($5.25 / Count) | On Sale Now |
| | SOUJOY 8 Pack Beer Mug, 12 Oz Beer Glass Stein with Handle and Straw for Men, Clear Lead-Free Freezer Beer Cup for Beer, Milk, Juice, Bar, Beverages | $27.99 ($3.50 / Count) | On Sale Now |
| | ZENFUN 8 Pack Beer Mugs Set, 13.5 Oz Glass Beer Mugs with Handle & Stainless Steel Straws, Beer Cups Heavy Base Pub Drinking Mugs for Wine, Juice, Iced Tea | $26.99 | On Sale Now |
| | Okllen 8 Pack 16 Oz Glass Beer Mug with Handle, Large Glass Steins Beer Cups with Stainless Steel Straws, Heavy Base, Thick Drinking Glasses for Freezer, Bar, Cocktail, Alcohol, Beverages, Soda | $27.99 ($3.50 / Count) | On Sale Now |
| | TUSAPAM 4 Pack Heavy Beer Mugs, Large Beer Glasses with Handle, 20 Ounce Glass Steins, Classic Beer Mug glasses Set | $23.99 ($6.00 / Count) | On Sale Now |
| | KooK Glass Beer Mugs Set, With Handles, Large Drinking Cups for Tea, Coffee, Root Beer Floats, Dishwasher and Freezer Safe, Clear and Durable, 22 oz, Set of 2 | $24.95 ($12.48 / Count) | On Sale Now |
| | Serami Hikari Design 1L (34oz) German Style Extra Large Super Glass Beer Steins, Set of 2 | $34.79 ($17.40 / Count) | On Sale Now |
| | PARNOO Glass Beer Stein, Traditional Beer Mug Set, Beer Mugs with Handles, Freezable Beer Glasses, Beer Mug Set of 4 - 18 Ounces | $23.50 ($5.88 / Count) | On Sale Now |
| | PetGirl Portable Rolling Cooler Ice Chest Cart Trolley for Outdoor Patio Deck Party Beer Cooler Cart Cover 80 Quart Rolling Cooler on Wheels Backyard Party Drink Beverage Bar Bottle Opener | $159.99 | On Sale Now |
| | Meoky 4-in-1 Can Cooler Insulated, Dishwasher Safe, Stainless Steel Can Coozie for 12oz Slim or Standard Cans, Bottles and as Tumbler with Lid, Can Insulator for Seltzer, Beer, Soda (Black) | | On Sale Now |
| | KRIB BLING Beverage Refrigerator and Cooler, 120 Cans Mini Refrigerator for Soda, Water, Beer, Wine, Small Drink Dispenser Machine for Home, Dorm, Office with Adjustable Wire Shelving | $199.99 | On Sale Now |
| | VINGLI 80 Quart Rolling Ice Chest on Wheels, Portable Patio Party Bar Drink Cooler Cart, with Shelf, Beverage Pool with Bottle Opener,Water Pipe (Rattan) | $159.99 | On Sale Now |
| | Black Insulated Cooler Bag – 6L Collapsible Thermal Lunch Bag with Bottle Opener, 16 Can Capacity – Perfect for Camping, Picnics and Travel - Handles and Removable Shoulder Strap - by Outrav | | On Sale Now |
| | NewAir Limited Edition Beverage Refrigerator and Cooler "Beers of the World" with Glass Door, 126 Can Capacity Freestanding Mini Beer Fridge with SplitShelf™ and 7 Temperature Settings AB-1200BC1 | $387.99 | On Sale Now |
| | Beer and Drink Cooler Backpack, Insulated 21 Liter 30 Can Leak Proof Soft Cooler for Beach, Camping, Hiking, Picnic (Coors) | | On Sale Now |
Pet Friendly Lodging | Personals
Maine Weddings | Visit Maine Towns
Some Brewing Company
1 York Street
York
, ME 03909 207-351-8162 somebrewingco.com South Coast Maine Craft brewery and tasting room.  
Beer Mugs
Beer Glasses
PRODUCT CONFIGURATION: Drinking glass set includes 4 can-shaped glass cups [ Diameter - 3 inches, Height - 5.8 inches ],4 nature bamboo lids, 4 reusable glass straws and 2 cleaning brushes, Classic design, Very practical mixed drinkware sets
DURABLE and SAFE: The can glasses are made of high-quality durable clear glass, Lead-free and BPA-free. It can be used safely for a long time. This thick clear glass can withstand the sudden changes in the temperature difference between -68°F to 212°F, making them dishwasher safe. If you want to decorate this glass, you can do DIY easily without breakage.
MULTI-PURPOSE: The can shaped glassware Great for any Occasion, any hot and cold drinks. It is widely loved by families, kitchen, breweries, cafes, bars and restaurants. You can use it to make perfect tea, boba bubble Pearl Milk Tea, soda, water, iced coffee, smoothie, fruit juice or any other interesting holiday drinks.
AMAZING GIFT: This jar is very fashionable, aesthetic and characteristic. Excellent workmanship. Perfect for Birthdays, House warming gifts, Tea Sets, Home Bar Accessories, Graduation, Weddings, Bachelorette Parties and Christmas Gifts.
100% SATISFIED SERVICE: This glass set is packaged in the heavy bubble holder and thick carton box to prevent damage while in transport. If the can-shaped glass set you received was damaged or imperfect or you are not 100% satisfied, please simply contact us, we will offer a satisfactory solution.
Note: 1)Too coarse a grind, too little coffee, or insufficiently tamping the grounds before brewing can all lead to inadequate pressure for a proper brew. 2)It is important to note that the amount of espresso extracted will vary depending on the grind size and amount and reprogramming may be needed when the size and amount are adjusted.Please refer to user guide or user manual or user guide (provided below in PDF) before first use
What's in the box: 12-cup glass carafe included with your brewer along with a heating plate to keep coffee hot.
Brew a cup and a carafe: Use both ground coffee and k-cup pods. Height with handle open-17.63 H inch. Height with drip cover open-18 H inch. Removable water canister
Multiple brew sizes: Brew a 6, 8, 10, or 12-cup carafe and a 6, 8, 10, or 12 ounce cup.
Compatible with keurig gold tone mesh filter accessory: A reusable coffee filter you can use to brew your perfect carafe (sold separately).
Large 60 ounce water reservoir: The 60 ounce water reservoir is shared between the single serve and carafe brewing, saving you time and simplifying your morning routine. Removable reservoir makes refilling easy.
Strong brew: Brew a stronger, more intense single cup. 30 inch cord length
Programmable carafe auto-brew: Program your coffee maker to automatically brew a carafe upto 24 hours in advance.
Pause & pour: Automatically pauses your Coffee maker mid brew for 20 seconds, allowing the carafe to be poured
Smart start: Your Coffee maker heats, then brews in 1 simple process. No need to wait for it to heat before selecting your cup size.
New England Living Magazine | New England Brew Pubs
Free World Mall

Country Weddings | New England Recipes
Maine Inns | Red Sox Gifts | Travel Destinations