Sanford, Maine 04073
Sanford, ME Lodging, Real Estate, Travel, & Visitor Information
A Guide to Living in Sanford, Maine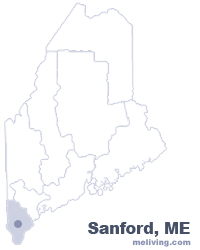 Sanford, Maine, nestled in York County, is a vibrant and welcoming community with a rich history and a variety of amenities. Whether you're considering a move to Sanford or planning a visit,  we provide you with an overview of the town's history, housing prices, neighborhoods, real estate values, points of interest, major employers, lodging, dining options, and attractions.
Sanford, ME History:
Sanford has a fascinating history that dates back to the early 18th century. It was initially settled as a farming community and later became known for its thriving textile and manufacturing industries. Sanford's historical significance can be explored through sites like the Goodall Mansion and the Sanford-Springvale Historical Museum, which provide glimpses into the town's past.


Lord's Clam Box Restaurant, 1465 Main Street So., Sanford, ME 04073 | 207-324-4700
Serving Only the Finest Seafood Since 1969. Famous Chowders and Legendary Seafood, Fried Haddock, Maine Steamers, Shrimp, Imported Pasta, One Quarter Pound Hamburgers, Assorted homemade desserts and pastries. Sensational side dishes and appetizers. Eat in or Take Out.
Visit Lord's Clam Box - Sanford, ME
---
Sanford Maine Housing Prices:
The real estate market in Sanford offers a range of options to suit various budgets. As of the latest available data, the median home price in Sanford is around $200,000. It's important to note that housing prices can fluctuate based on factors such as location, property size, and condition.
Neighborhoods and Real Estate Values:
Sanford is divided into several neighborhoods, each with its own unique charm. Some popular neighborhoods include Springvale, South Sanford, and Downtown Sanford. Real estate values in Sanford are generally stable, with property values appreciating steadily over the years.
Sanford ME Points of Interest:
Sanford is home to several points of interest that cater to a diverse range of interests. For outdoor enthusiasts, the Mousam Way Trail offers scenic hiking and biking opportunities, while Number One Pond is a picturesque spot for fishing and boating. Golfers can tee off at the Sanford Country Club, a well-regarded southern Maine golf course. The Center for Wildlife is also worth a visit, where you can learn about local wildlife conservation efforts.
Major Employers in Sanford:
Sanford boasts a mix of industries that provide employment opportunities for its residents. Some of the major employers in Sanford include:
Pratt & Whitney: A major aircraft engine manufacturer.
Tambrands (a division of Procter & Gamble): A leading manufacturer of feminine hygiene products.
Southern Maine Health Care: Provides healthcare services to the local community.
Walmart: A well-known retail establishment providing job opportunities in the area.
Sanford ME Lodging, Dining, and Attractions:
When it comes to lodging, Sanford offers a range of options, including hotels, bed and breakfasts, and vacation rentals. Dining enthusiasts can explore a variety of restaurants, cafes, and diners in Sanford. Some popular local restaurants include Lord's Clam Box: A local favorite known for its delicious seafood dishes.
Sanford, Maine, is a town steeped in history, offering a desirable blend of small-town charm and modern amenities. Whether you're interested in exploring its rich past, investing in real estate, or immersing yourself in its vibrant culture, Sanford has something for everyone. Consider Sanford as your next destination for living, working, or simply enjoying a memorable visit.
To include your Maine business in MELiving, please contact us.
inns | hotels | resorts | rentals | attractions | dining | real estate
SHOP SANFORD ME GIFTS

| Photo | Title | Price | Buy |
| --- | --- | --- | --- |
| | The Paquette Family Genealogy: Sanford, Maine and Saint Georges de Windsor, Quebec, Canada | $13.27 | On Sale Now |
| | Retro Maine T Shirt Vintage 70s Rainbow Tee Design | $16.99 | On Sale Now |
| | 1845 Map of Maine Art Print - 11x14 Unframed Art Print - Great Vintage Home Decor Under $15 | $12.99 | On Sale Now |
| | The History of Sanford, Maine, 1661-1900 | $35.95 | On Sale Now |
| | Maine T-Shirt, US State Travel Vacation Shirts ME USA Tees | $19.99 | On Sale Now |
| | Maine USA State Vintage Emblem Car Bumper Sticker Decal 3''x3'' | $3.75 | On Sale Now |
| | Vintage Sanford, Maine Mountain Hiking Souvenir Print Pullover Hoodie | $39.99 | On Sale Now |
| | Vintage Sanford, Maine Mountain Hiking Souvenir Print Sweatshirt | $39.99 | On Sale Now |
| | Road Atlas of York County, Maine: Biddeford, Sanford, Saco, Kennebunk, Wells, Kittery, Kennebunkport, Alfred, and all other communities | $16.80 | On Sale Now |
| | Vintage Sanford, Maine Mountain Hiking Souvenir Print Premium T-Shirt | $24.99 | On Sale Now |
| | Totally Bamboo Maine State Shaped Cutting Board, Natural Bamboo | $19.99 | On Sale Now |
| | Sanford Maine ME Vintage Sports Design Red Design Raglan Baseball Tee | $23.99 | On Sale Now |
| | Vintage Sanford, Maine Mountain Hiking Souvenir Print Sweatshirt | $34.99 | On Sale Now |
| | Someone In SANFORD ME MAINE Loves Me City Home Roots Gift Sweatshirt | $31.99 | On Sale Now |
| | Maine Sweatshirt Retro Vintage Maine Hoodie Gifts 207 | $38.99 | On Sale Now |
| | Maine Is Calling And I Must Go Funny Vacation Gift T-Shirt | $16.99 | On Sale Now |
| | Whoopie Pies Bakery Dessert | Individually Wrapped Whoopee Pies [9 Count] | Gourmet Cookie Gifts | Kosher & Nut Free | Fresh Bakery Cookies for Holidays, Birthdays, College Care Package for Girls, Coworkers, Friends | Stern's Bakery | $24.95 ($24.95 / Count) | On Sale Now |
| | Maine Moose T-shirt Gift for Men Women and Kids | $17.99 | On Sale Now |
| | Sanford Maine ME Vintage Athletic Sports Logo Pullover Hoodie | $32.99 | On Sale Now |
Aroostook County ME Towns
Fort Kent, Houlton, Presque Isle, Fort Fairfield, Madawaska
Downeast & Acadia ME Towns
Bar Harbor, Blue Hill, Deer Isle, Eastport, Lubec, Cherryfield, Machias
Greater Portland & Casco Bay ME Towns
Portland, Freeport, Yarmouth, Westbrook, Cape Elizabeth
Kennebec & Moose River Valley ME Towns
Augusta, Skowhegan, Waterville, The Forks
Lakes & Mountains ME Towns
Auburn, Lewiston, Norway, Bethel, Farmington, Naples
Midcoast Maine Towns
Bath, Boothbay Harbor, Camden, Rockland, Brunswick, Belfast, Searsport
South Coastal ME Towns
Biddeford, Kennebunkport, Kittery, Ogunquit, Old Orchard Beach, Saco, Wells, York
Katahdin & Moosehead ME Towns
Bangor, Brewer, Greenville, Lincoln, Millinocket, Orono, Baxter State Park
Pet Friendly Lodging | Personals
Maine Weddings | Visit Maine Town Guides
Free World Mall

Country Weddings | Travel Destinations