Alfred, Maine 04002
Alfred, ME Lodging, Real Estate, Travel & Visitor Information
Alfred Historic District is listed on the National Register of Historic Places. The District is in the center of the village, located southwest to northeast on Route 202 and 4 (Oak Street) and along Kennebunk Road and Saco Road.
Alfred was named after the English King during the ninth century, Alfred the Great. In 1873, the most famous trial of its time in the state, the Wagner murders of Smuttynose Island, was held in the Alfred Court House. The town lies northwest of Sanford on Rte. 109, which continues into New Hampshire.
Discovering Alfred, Maine: A Historic Town with Endless Charm
Located in southern Maine, the town of Alfred is a hidden gem that effortlessly combines rich history, breathtaking natural beauty, and a vibrant community. Steeped in tradition and surrounded by scenic landscapes, Alfred offers visitors and residents an authentic experience in a charming New England setting.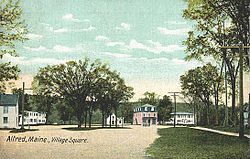 Brief History of Alfred, Maine:
Alfred settled in the 1700s and holds the distinction of being Maine's first incorporated town. Named after King Alfred the Great of England, it became the county seat of York County in 1805. The town played a significant role in shaping Maine's history, serving as a hub for political, social, and economic activities. Today, remnants of its illustrious past can be seen through its well-preserved historic sites and landmarks.
Historic Sites and Places of Interest:
Alfred Village Historic District: Stroll through the Alfred Village Historic District and be transported back in time. Lined with 19th-century buildings, this district exudes an authentic New England charm. Explore the Shaker Museum, housed in an old Shaker Community building, to learn about the town's spiritual heritage.
Parsonsfield-Porter Bridge: Just a short drive from Alfred, this picturesque covered bridge is a must-visit. Built in 1876, it spans the Ossipee River and offers stunning views of the surrounding countryside.
Alfred Shaker Museum: Discover the fascinating history of the Alfred Shaker community through exhibits, artifacts, and interactive displays. Gain insights into the unique way of life and religious practices of the Shakers, a utopian religious group that thrived in the area.
Alfred Neighborhoods and Villages:
Alfred Center: The heart of the town, Alfred Center, boasts a traditional New England atmosphere. With its historic buildings and charming shops, it's a delightful place to explore and unwind.
North Alfred: Nestled amidst rolling hills and scenic landscapes, North Alfred is an idyllic rural village that offers a peaceful retreat. Enjoy the beauty of the outdoors with access to hiking trails, fishing spots, and stunning views.
Alfred Mills: Located along the banks of the Saco River, Alfred Mills offers a mix of historic architecture and natural beauty. The area is known for its picturesque views and is perfect for outdoor enthusiasts.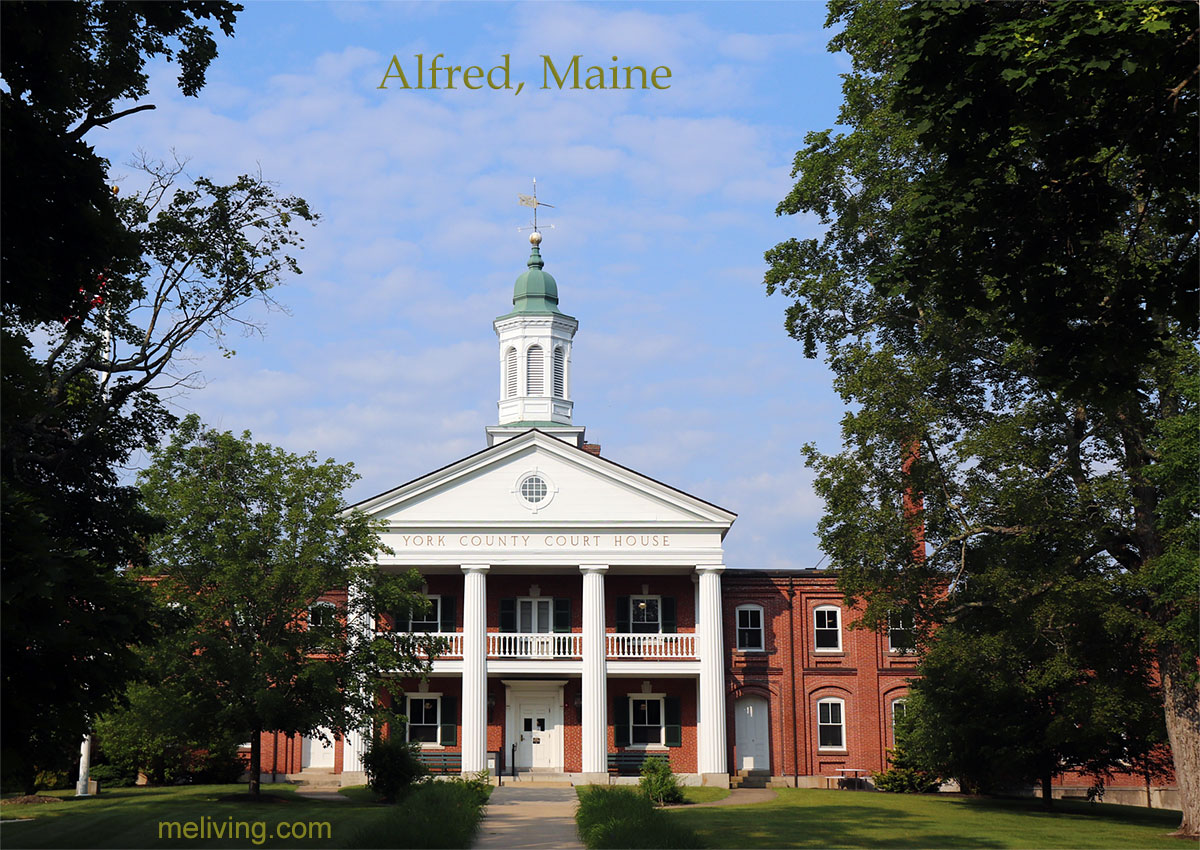 Things to Do:
Outdoor Recreation: Alfred is a paradise for outdoor enthusiasts. Explore the trails of Vaughan Woods State Park, go fishing in the Saco River, or embark on a scenic hike in the nearby Mount Agamenticus Conservation Region.
Shaker Hill Trails: Immerse yourself in nature by exploring the network of trails in the Shaker Hill area. These hiking trails offer a tranquil escape and a chance to observe local wildlife.
York County Museum and Old Jail: Learn about the rich heritage of York County at this fascinating museum, which showcases historical artifacts, exhibits, and displays. Visit the adjacent Old Jail to get a glimpse into the town's justice system of yesteryear.
Local Attractions:
Little Ossipee Lake: Just a short distance from Alfred, Little Ossipee Lake is a popular spot for swimming, boating, and picnicking. Enjoy the serene surroundings and take in the stunning views.
Saco River Theatre: Catch a performance or film screening at the Saco River Theatre, a local cultural hub that showcases a diverse range of artistic talents.
Rochester Opera House: Located just across the state border in Rochester, New Hampshire, the Rochester Opera House offers a variety of live performances, including theater, music, and comedy.
Parks:
Goodall Park: Home to the Alfred Shaker baseball team, Goodall Park is a historic baseball field that exudes a nostalgic ambiance. Catch a game during the summer months and enjoy the sense of community that comes with it.
Alfred Municipal Forest: This forested area provides an ideal setting for hiking, biking, and wildlife spotting. Explore the trails, enjoy a picnic, or simply relax amidst nature's tranquility.
Life and Living in Alfred, Maine:
Alfred, Maine, embodies a close-knit community that cherishes its rich history and embraces a vibrant present. The town hosts a range of community events, including parades, fairs, and festivals, fostering a sense of togetherness among residents. The education system is excellent, with a strong emphasis on providing quality education to students. The town's rural character, combined with its proximity to larger cities like Portland, offers the best of both worlds – a peaceful lifestyle within reach of urban amenities. Contact a suggested local Alfred area Realtor for more information about relocating to Alfred, Maine.
Alfred, Maine, is a captivating town that seamlessly blends its storied past with a vibrant present. From its historic sites and places of interest to its picturesque neighborhoods and outdoor recreational opportunities, there is something for everyone to enjoy. Whether you're exploring its historic districts, immersing yourself in nature, or partaking in local events, Alfred promises an experience that will leave a lasting impression. Visit Alfred and embark on a journey through time, where old-world charm and contemporary living coexist in harmony.
To share any Alfred, Maine information with us, please contact us. Learn more about advertising in MELiving.
Incorporated: 1808
County: York
Acton, ME Population: 2010: 2,502

GPS Coordinates:
Latitude: 43.4825
Longitude: -70.718611
Alfred, ME Local Information
Alfred Police Dispatch: 911
Alfred Fire Department: 207-324-8969
Town Hall Telephone: 207-324-3521
Official Alfred, ME Website: alfredme.us
inns | hotels | resorts | rentals | attractions | dining | real estate
ALFRED MAINE GIFTS

| Photo | Title | Price | Buy |
| --- | --- | --- | --- |
| | Totally Bamboo Destination Maine State Shaped Serving and Cutting Board, Includes Hang Tie for Wall Display | $29.99 | On Sale Now |
| | Maine Crewneck Sweatshirt Sports College Style State Gifts | $37.99 | On Sale Now |
| | Wild Maine Blueberry Sampler Gift Pack - 7 Count - Maine Made - Great for Holidays & Birthdays | $39.99 | On Sale Now |
| | Original Maine State Flag Gift Northern New England Dirigo Pullover Hoodie | $32.99 | On Sale Now |
| | Doraloko Throw Pillow Cover 12x20 Set of 2, Maine Decor Gift Souvenir, American Flag License Plate Lumbar Pillowcase, Greetings from The Pine Tree State(ME, USA) - Cushion Case Sham, No Inserts | $13.35 ($6.68 / Count) | On Sale Now |
| | Vintage Maine Hoodie Sweatshirt - Maine Gifts | $36.99 | On Sale Now |
| | Homesick Premium Scented Candle, Maine - Scents of Lavender, Sandalwood, Patchouli, 13.75 oz, 60-80 Hour Burn, Natural Soy Blend Candle Home Decor, Relaxing Aromatherapy Candle | | On Sale Now |
| | Whoopie Pies Bakery Dessert | Individually Wrapped Whoopee Pies [9 Count] | Gourmet Cookie Gifts | Kosher & Nut Free | Fresh Bakery Cookies for Holidays, Birthdays, College Care Package for Girls, Coworkers, Friends | Stern's Bakery | $24.95 ($24.95 / Count) | On Sale Now |
| | Lighthouses of Maine Blanket - Bass Harbor Cape Elizabeth Halfway Rock Sequin Neddick West Quoddy Portland Pemaquid - Coastal Ocean Gift Tapestry Throw Woven from Cotton - Made in the USA (72x54) | $59.95 | On Sale Now |
Pet Friendly Lodging | Personals
Maine Weddings | Visit Maine Town Guides
Free World Mall

Country Weddings | Travel Destinations