Ogunquit Maine's Famous Ocean Walk
Marginal Way – Ogunquit Southern Maine Photo Tour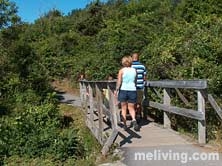 One of the most popular visitor attractions in all of South Coast Maine is Ogunquit's famous Marginal Way. The Marginal Way was once an old Indian trail that is now a famous south coastal Maine attraction. This scenic coastal path is just over one mile long, and meanders along the rugged coastline. Ask us about Maine or share reviews and comments. To feature your Maine business, contact us.
While walking down this historical footpath breathe in the fresh ocean air and take time to explore the beautiful scenery along the way. There are many places you can stop, sit and capture the Atlantic coast of Maine at its best.
The Marginal Way runs along the Ogunquit coast starting at Ogunquit Beach, making its way down to Perkins Cove, where you can enjoy boat rides of all sorts, visit the many shops, or grab a bite to eat. The Cliff House  is one of several Ogunquit Maine resorts located near the famous walkway.
The Marginal Way offers some of the best views of the coastline in Maine. Views of the rocky shoreline with water breaking against the ledges creates a beautiful picturesque view of mist flying high into the air while Moody and Ogunquit Beach stand in the background.
The path is very well maintained and landscaped to perfection with many native flowers and plants running along the sides of the trail. This walkway is paved and fenced along the steep overlooks. This trail is an easy and comfortable walk, safe for children, strollers and even handicapped accessible. Dogs are not permitted during peak times of the season.
A stroll or jog along the Marginal Way, Perkins Cove in Ogunquit Maine  is a great way to experience the fabulous Maine coastline.
[flagallery gid=1 name=Gallery]
Visit Ogunquit Maine – Ogunquit Inns, Ogunquit Hotels, Ogunquit Resorts, Ogunquit Vacation Rentals and enjoy Maine Lobster at the best Southern Maine Restaurants.
Pet Friendly Lodging | Personals
Maine Weddings | Visit Maine Towns
Free World Mall

Country Weddings | New England Recipes
Maine Inns | Red Sox Gifts | Travel Destinations