Bangor, Maine 04401
Bangor, ME Lodging, Real Estate, History & Visitor Information
Welcome to historic and vibrant, Bangor, Maine. The last two editions of Macmillan's Places Rated Almanac have rated Bangor the best of the North American metro areas with a population under 100,000.
Bangor has all the opportunities that larger cities have without all of the problems. Bangor, Maine is Maine's Queen City. There are a number of hotels and motels in the Bangor metropolitan area to stay at while visiting.
Local shopping includes downtown Bangor stores and boutiques and the Bangor Mall. The town of Bangor was originally known as Conduskeag. At first, many residents of the town during the mid to later 1700s wanted the town name to become Sunbury but was never granted by the General Court.
The name Bangor later came from Reverend Seth Noble which he got from one of his favorite hymns. Vince McMahon promoted his first professional wrestling event in Bangor in 1979. Bangor is the site of the famous Paul Bunyon statue in Maine.
Exploring Bangor, Maine: A Tapestry of History, Vibrant Real Estate, and Endless Surprises
Nestled in the heart of Maine, Bangor reveals itself as a captivating city where history intertwines with modern allure. Known as the Queen City, Bangor offers a charming blend of a rich historical tapestry, a thriving real estate market, diverse employment opportunities, and a plethora of exciting activities for residents and visitors. Join us as we embark on a journey through the captivating history of Bangor, discover the unique twin city of Brewer, explore the vibrant real estate options and values, uncover major employers, and delve into the enriching experiences that make living or visiting in Bangor a Maine delight.
A Tapestry of History:
With roots reaching back to its establishment in 1769, Bangor weaves a compelling historical narrative. As a prominent lumber port, it earned the title "Lumber Capital of the World," fostering a thriving trade and commerce hub. The city's strategic location on the Penobscot River propelled its growth, attracting settlers and merchants alike. Witnessing significant milestones during the Civil War and the industrial revolution, Bangor proudly preserves its rich heritage through historic sites and museums.
Brewer: The Twin City:
Adjacent to Bangor lies Brewer, a complementary twin city that adds depth to the region's allure. Brewer shares Bangor's historical legacy while offering a more laid-back ambiance. Connected by the Penobscot River Bridge, the twin cities provide a seamless experience for residents, who can enjoy combined amenities, festivals, and cultural events held throughout the year.
Vibrant Real Estate Market:
Bangor's real estate market flourishes with an array of housing options to suit various preferences and budgets. Tree-lined neighborhoods boast stunning historic homes, while the downtown area features contemporary apartments and condominiums. The city offers stable property values and affordable living costs, making it an attractive destination for individuals and families seeking a comfortable lifestyle.
Thriving Employment Opportunities:
Bangor serves as a thriving economic hub, boasting a diverse range of industries. Leading employers include renowned healthcare institutions like Northern Light Health and St. Joseph Healthcare, esteemed educational establishments such as the University of Maine and Husson University, the bustling Bangor International Airport, major retail establishments including Bangor Mall, and a growing technology sector. This diverse job market ensures abundant opportunities across various fields.
Bangor provides a wealth of activities to captivate residents and visitors alike. Nature enthusiasts can explore the breathtaking landscapes of Acadia National Park or embark on a scenic stroll along the Bangor Waterfront. Festivals, concerts, and cultural events abound throughout the year, catering to diverse interests. The city also offers a vibrant shopping scene with local boutiques and culinary delights that cater to all tastes. Live performances at the Collins Center for the Arts add to the cultural richness of the city.
Preserving History:
Bangor's streets bear witness to architectural gems and historic landmarks. The Thomas A. Hill House, Bangor Opera House, and the famed Stephen King House stand as testaments to the city's history. Visitors can immerse themselves in the past at the Bangor Historical Society and Maine Discovery Museum, delving deeper into the city's fascinating heritage.
Embracing the Bangor Lifestyle:
Living in Bangor presents a high quality of life, with affordable housing, excellent educational institutions, and accessible healthcare facilities. The city fosters a close-knit community that values its heritage while embracing progress. Residents revel in outdoor recreational activities, have access to quality healthcare, savor a vibrant arts and culture scene, and relish the strong sense of community that makes Bangor an exceptional place to call home.
In addition to its captivating history and vibrant community, Bangor, Maine, has been home to many notable individuals who have left an indelible mark on the state and beyond. Here are a few famous Mainers, including the renowned author Stephen King:
Stephen King: Arguably one of the most famous authors of our time, Stephen King was born in Portland, Maine, and later made Bangor his home. Known for his thrilling and suspenseful novels such as "The Shining," "Carrie," and "It," King's captivating storytelling has captivated readers worldwide. The city of Bangor has become closely associated with King's works, and fans can visit landmarks such as his Victorian mansion on West Broadway, which served as inspiration for some of his stories.
Hannibal Hamlin: Born in Paris Hill, Maine, Hannibal Hamlin was the 15th Vice President of the United States, serving under President Abraham Lincoln from 1861 to 1865. He was an influential figure in the abolitionist movement and played a crucial role in the preservation of the Union during the American Civil War.
Edna St. Vincent Millay: A Pulitzer Prize-winning poet, Edna St. Vincent Millay was born in Rockland, Maine. Her poignant and lyrical works, such as "Renascence" and "First Fig," earned her critical acclaim and established her as one of the leading voices of American poetry in the early 20th century.
Joshua Lawrence Chamberlain: Hailing from Brewer, Maine, Joshua Lawrence Chamberlain was a prominent figure in the American Civil War. He served as a Union Army officer and played a vital role in the Battle of Gettysburg, receiving the Medal of Honor for his valor. After the war, Chamberlain became the governor of Maine and later served as the president of Bowdoin College.
Patrick Dempsey: Best known for his role as Dr. Derek Shepherd in the hit television series "Grey's Anatomy," Patrick Dempsey was born in Lewiston, Maine. Besides his acting career, Dempsey is also involved in philanthropy and has made significant contributions to cancer research and patient care through The Patrick Dempsey Center for Cancer Hope & Healing.
These notable individuals from Maine, have contributed to the state's rich cultural heritage and have achieved remarkable success in their respective fields, leaving an enduring legacy.
Bangor, Maine, exudes charm and vitality, seamlessly weaving its historical tapestry with modern amenities. From its vibrant real estate market to its flourishing employment landscape, the Queen City provides a vibrant living experience for all. With its rich history, diverse cultural offerings, and natural wonders, Bangor invites individuals from all walks of life to explore and discover the wonders of this captivating city.
To your Bangor, Maine information with us, please contact us.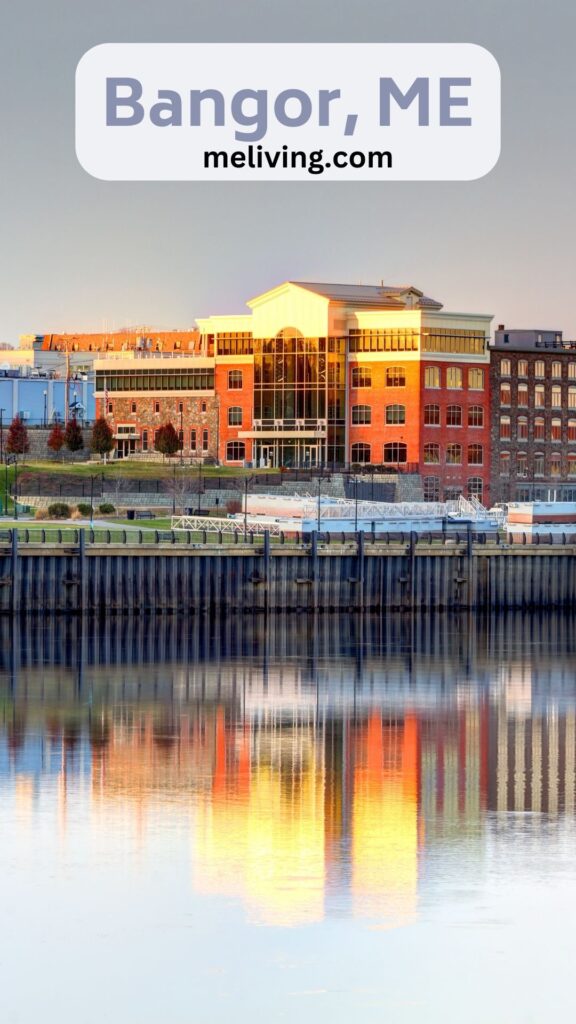 Incorporated: 1834
County: Penobscot (county seat)
Bangor, ME Population: 2010: 33,039

GPS Coordinates:
Latitude: 44.803611
Longitude: -68.770278
Bangor City Hall
73 Harlow Street, Bangor, ME 04401
Phone: 207.992.4200
Business Hours: Monday – Friday, 8:00 AM – 4:30 PM
Bangor, ME Local Information
Bangor Police Dispatch: 911
Bangor Fire Department: 207-992-4700
Public Works:207-992-4500
Town Clerk Telephone: 207-992-4220
Official City of Bangor, Maine Website: bangormaine.gov
inns | hotels | resorts | rentals | attractions | dining | real estate
SHOP BANGOR ME GIFTS

| Photo | Title | Price | Buy |
| --- | --- | --- | --- |
| | Bangor Maine Vintage Nautical Crossed Oars Pullover Hoodie | $31.99 | On Sale Now |
| | BANGOR GIRL ME MAINE Funny City Home Roots Gift Long Sleeve T-Shirt | $22.99 | On Sale Now |
| | Bangor Maine ME Retro Vintage Pullover Hoodie | $31.99 | On Sale Now |
| | Black Bangor: African Americans in a Maine Community, 1880-1950 (Revisiting New England) | $22.95 | On Sale Now |
| | Hidden History of Maine | $2.99 | On Sale Now |
| | Totally Bamboo Destination Maine State Shaped Serving and Cutting Board, Includes Hang Tie for Wall Display | $29.99 | On Sale Now |
| | Old Maine Flag Stemless Wine Glass - Original 1901 State of Maine Flag Gifts for Women & Men Mainers - Large Engraved 17 Oz Glasses | $19.95 | On Sale Now |
| | Maine Gifts - Box of 10 Maine Made Items - Whoopie Pie, Fluff, Moxie Soda, Maple Syrup, Blueberry Honey Bear, Humpty Dumpty BBQ Chips, Needham Chocolate, Carrabassett Acadia Coffee, Wild Blueberry Jam and Woods Candle - Great Gift Set or Gift Basket for Christmas, Holidays and Birthdays | $59.99 ($6.00 / Count) | On Sale Now |
| | Stephen King Three Classic Novels Box Set: Carrie, 'Salem's Lot, The Shining | $32.85 | On Sale Now |
| | The Dark Tower 8-Book Boxed Set | $86.03 | On Sale Now |
| | Stephen King 5 Books Collection Box Set (Cujo, 'Salem's Lot, The Shining, Doctor Sleep, Fire Starter) | $42.99 | On Sale Now |
| | The Dark Tower Series Complete 8 Books Collection Box Set by Stephen King (Gunslinger, Waste Lands, Wizard and Glass, Wolves of the Calla & MORE!) | $79.39 | On Sale Now |
Pet Friendly Lodging | Personals
Maine Weddings | Visit Maine Town Guides
New England Living Magazine
Free World Mall

Country Weddings | Travel Destinations