Stephen King, Maine Author
Novels Books & Thoughts of Maine Writer Stephen King

A visit to the Stephen King
house.  The Stephen King House in Bangor, Maine displays several subtle hints of the creative owner who lives inside: Maine-born author Stephen King. Probably the most famous of all Maine authors, King lives a fairly low-profile existence in this Maine Highlands region. Bangor is a wonderful small, Maine city, recently voted one of the best places to live in America.  Stephen King Books
are popular worldwide.
Maine Author Stephen King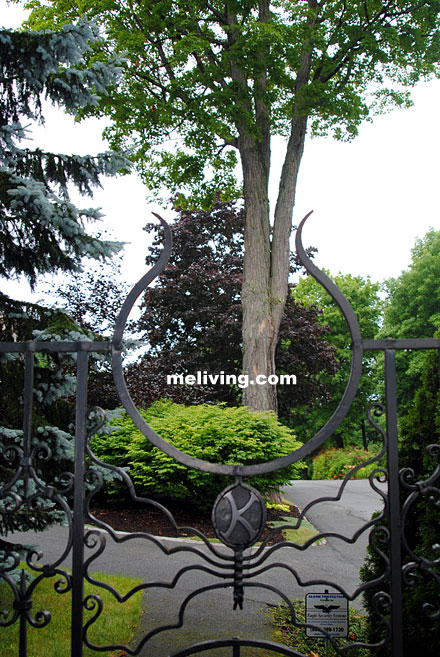 The Stephen King home features gargoyles and bats. The ironwork is quite fascinating. Out of respect for Mr. King's privacy, we will not reveal the exact address of the Stephen King home, although a visit to Bangor and doing some local queries will probably get you there. Please respect privacy, take only photos, and leave with only memories. The gate to the home features a spider and the letter "K". The gargoyles can be seen in some of the corners. A frolicking frog can be seen from the sidewalk and appears to jump out of bushes.Stephen King was born in Portland, Maine and spent part of his childhood in Fort Wayne, Indiana, where his father's family was at the time, and in Stratford, Connecticut. Mr. King returned to Maine with his mother when he was eleven years old. Stephen King attended grammar school in Durham and late Lisbon Falls High School – graduating class of 1966. A true Mainer – Mr. King went on to graduate from University of Maine at Orono in 1970 with a B.A. in English. The military draft exam found him to be a 4-F exemption: high blood pressure, flat feet, and punctured eardrums .
Mr. King is married to his college sweetheart – Tabitha Spruce. He met Tabitha in the aisles of Fogler Library at the University of Maine Orono. Stephen King sold his first short story ("The Glass Floor") to Startling Mystery Stories in 1967. It was spring 1973 when Doubleday & Co. accepted "Carrie" for publication. The novel became the first of many famous Stephen King books.Stephen and Tabitha King spend winters in Florida and the remainder of the year in Maine. They have a home in Center Lovell and Bangor. The Kings have three children: Naomi Rachel, Joe Hill, and Owen Phillip. They have three grandchildren and provide scholarships for local high school students. The Kings also contribute to other local and national charities.
Stephen King is of Scottish and Irish descent. He is 6'4″ and weighs about 220 pounds. Mr. King is an avid MLB baseball fan and is occasionally seen at Fenway Park in Boston, MA or at the Boston Red Sox Spring Training games in Fort Myers, Paradise Coast FL.

SHOP STEPHEN KING BOOKS ON SALE

inns | hotels | resorts | rentals | attractions | dining | real estate
Pet Friendly Lodging | Personals
Maine Weddings | Visit Maine Town Guides