Saint Valentine
The Mysterious "Saint of Love"
The Catholic Church celebrates three saints with the name Valentine that were martyred on February 14th. One man was a priest in Rome. Another was a Bishop in Interamna (today's Ternin in Italy) and the third was a priest that died in Africa. The first two men are often believed to be the same person while nothing more is known of the third except that he died among a group of men. Ask us about Maine or share your Maine comments. To feature your Maine business in Maine's Internet Magazine, contact us.


Maine Diner, 2265 Post Road (US Route 1), Wells, ME 04090 | 207-646-4441
World Famous Food Like Grandma Used To Make. Featured on "The Today Show", Phantom Gourmet, Guy Fieri's "Diners, Drive-Ins and Dives" and others. Maine blueberry pancakes, pies, lunch and dinner specials and more. Try Maine Diner's famous Lobster Pie, Seafood Chowder, Codfish Cakes. Breakfast anytime. Remember the Maine Gift Shoppe, Maine Products. Eat-In or Take-Out. View menus online.
Maine Diner - Wells, Maine
---


Beachmere Inn, 62 Beachmere Place, Ogunquit, ME 03907 | 207-646-2021
Ocean front accommodations in the heart of Ogunquit on the Marginal Way with breathtaking ocean views. Luxury suites and unique rooms, fireplaces, kitchenettes, private balconies or patios. Enjoy an on-site spa, exercise room and hot tub. Reception rooms for weddings, meetings and events. Beachmere Inn is a leader in guest services, event coordination and hospitality. A stunning location perfect for weddings, elopements, vow renewals, rehearsal dinners, bridal showers and even bachelor - bachelorette weekend getaways. Open year round. Walk to everything in town or enjoy drinks from our ocean view Blue Bistro.
Visit Beachmere Inn - Ogunquit ME
---


When Pigs Fly Pizzeria, 460 U.S. Route 1, Kittery, Maine 03904 | Restaurant: 207-438-7036 Bread Store: 207-439-3114
Enjoy our large selection of wood-fired pizzas, appetizer plates, craft beers and draft wines. The pizzas are Neapolitan style, handcrafted from all natural ingredients. Our wood-fired ovens give the crust a chewy, smoky flavor. All ingredients are the freshest including mozzarella, which is made fresh daily. This location is also home to the When Pigs Fly Company Store, which offers all of the classic and artisan breads, and other products available from When Pigs Fly.
Visit When Pigs Fly Pizzeria - Kittery, ME
---


Warren's Lobster House, 11 Water Street / U.S. Route 1, Kittery, Maine 03904 | 207-439-1630
Warren's is a "destination restaurant" known far and wide. All entrees on our extensive menu include the "Seacoast's Finest Salad Bar" featuring over sixty items. Warren's offers the area's largest selection of lobster entrees along with great seafood, steak and chicken specialties served in a comfortable and casual family atmosphere. Free valet parking service is provided "in season".
Visit Warren's Lobster House - Kittery, ME
---


Roberto's, 200 Shore Road, Ogunquit, Maine 03907 | 207-646-8130
Roberto's is committed to making every dish memorable and that feeds not only the body, but feeds the spirit as well. Delicious hardy portions that are truly crave worthy. An extensive menu of all your favorite Italian dishes cooked authentically to give you that real taste of Italy.
Visit Roberto's - Ogunquit, ME
---


Fisherman's Catch Restaurant, 134 Harbor Road, Wells, ME 04090 | 207.646.8780
Fisherman's Catch Restaurant has been serving fresh Maine seafood, off the beaten path, for more than 35 years. We truly appreciate the locals making our little rustic spot in Wells Harbor their destination. Off the Beaten Path, Keeping It Rustic Since 1982. Lunch and Dinner - May to Mid October. Dine Out, Dine In. A Maine Summertime Classic.
Visit Fisherman's Catch Restaurant - Wells, ME
---


Jonathan's OGT, 92 Bourne Lane, Ogunquit, Maine 03907 | 207-646-4777
Serving upscale New England cuisine, Jonathan's Ogunquit, caters to those diners looking for fresh seafood, classic European dishes, grilled steaks and more. Diners prefer Jonathan's for a romantic date night, to celebrate a special birthday or enjoy an evening of farm to table gastronomy before a show. Jonathan's offers dining, events, and concerts. Featuring local food products wherever possible and focuses on serving fresh, New England products. Jonathan's slogan has always been to #eatwell.
Visit Jonathan's OGT - Ogunquit, ME
---


Loco Coco's Tacos, 36 Walker Street, Kittery, ME 03904 | 207-438-9322
Creative, unique, and freshly made Mexican food housed in a restored building, a relaxed dining experience that offers something different to patrons and ensures you enjoy a memorable food experience every time. Mexican, Southwestern Cuisine, Special Diets, Vegetarian, Vegan / Gluten free options. Lunch, Dinner, Dine-In or Take-out, Catering.
Visit Loco Coco's Tacos - Kittery, ME
---


Lord's Clam Box Restaurant, 1465 Main Street So., Sanford, ME 04073 | 207-324-4700
Serving Only the Finest Seafood Since 1969. Famous Chowders and Legendary Seafood, Fried Clams, Fried Haddock, Maine Steamers, Shrimp, Imported Pasta, One Quarter Pound Hamburgers, Assorted homemade desserts and pastries. Sensational side dishes and appetizers. Eat in or Take Out.
Visit Lord's Clam Box - Sanford, ME
---


Ogunquit Beach Lobster House, 1111 Beach Street, Ogunquit, ME 03907 | 1-207-360-2286
Enjoy a Maine lobster meal you will will want again and again, with succulent lobster you can taste, not buried in overwhelming seasonings or paired with inappropriate accompaniments. We make it to your taste, even if only seasoned with our healthy Maine salt air! Dine-In, or Take-Out. Seasonally Open 7 days a week from Noon - 8:00pm
Visit Ogunquit Beach Lobster House - Ogunquit, ME
---
There are many legends surrounding Saint Valentine. The most popular makes him the saint of marriage. It is said that Valentine was a Roman Priest during the reign of Roman Emperor Claudius II. Claudius decided that single men made the best soldiers because they did not have families, so he canceled all engagements and forbid marriage in Rome. Valentine disagreed with Claudius and continued to perform marriages in secret. He was discovered, imprisoned and sentenced to death around 270 AD.
Another legend claims that Saint Valentine was a strict follower of his faith. Although practicing Christianity was a death sentence under Claudius II's rule, Valentine refused to worship Roman Gods. He helped free other Christians that were imprisoned under Roman law. When he was captured he was sent to prison. While in prison he healed the jailer's daughter of blindness. He fell in love with her and before his death sent her a letter signed "Your Valentine" and so the tradition of Valentine's began.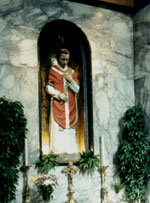 A third legend claims that saint Valentine was well loved by children. When he was arrested for practicing Christianity he was missed by the children. They began sending him loving letters and flowers through the bars on his cell window. This is also claimed to be the origin of gifts, cards and flowers on Valentine's Day.
It is believed that Saint Valentine was beheaded on February 14th. It was made a feast day by the Church in 498 AD. The remains of the saint were given to an Irish priest after a passionate sermon given in Rome by Pope Gregory XVI. These remains can be seen every Valentine's Day in Dublin, Ireland. Because of the confusion about who Saint Valentine really was, the Catholic Church dropped the feast day from the official Roman Catholic calendar in 1969.
Although Valentine's day is no longer recognized religiously, it has continued to gain popularity throughout the years. Cards, flowers and candy continue to be the favored gifts exchanged on Valentine's Day. But in more recent years, romantic dinners and weekend getaways have become more popular.
By Tabitha Fitzgerald
Read about Valentine's Day History and more information about the Holiday of Love.
Did we miss something? Add your update or comment.
Pet Friendly Lodging | Personals
Maine Weddings | Visit Maine Town Guides
Free World Mall

Country Weddings | Travel Destinations