Boothbay Harbor, Maine 04538
Boothbay Harbor, ME Lodging, Real Estate, Travel, & Visitor Information

Welcome to scenic Boothbay Harbor, Maine. Boothbay Harbor was originally a part of Boothbay, but incorporated as its own town in 1889. Boothbay Harbor played an important role in World War II building specialized minesweeping ships for the U.S.Navy. It is also famous for having been the film location for the 1956 musical "Carousel".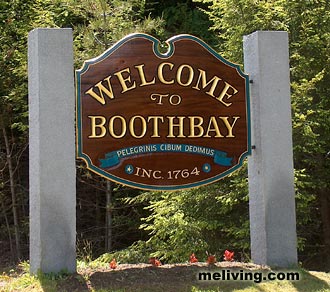 Boothbay Harbor's population more than doubles in the summer months as it becomes a tourist center with many recreational activities around the Harbor as well as the village of Boothbay.


Maine & Ivy, 26 Townsend Street, Boothbay Harbor, ME 04538 | 207-315-6458
We are located in downtown Boothbay Harbor, Maine. We celebrate the timeless fashion of "The New England Preppy Lifestyle", but with a modern twist! After all, we believe in vintage style, not vintage values! And, yes, pearls do go with everything!
Visit Maine & Ivy - Boothbay Harbor, ME
---

Coastal Maine Botanical Gardens, 132 Botanical Gardens Drive, Off Barters Island Road, Boothbay, ME 04537 | 207-633-8000
Coastal Maine Botanical Gardens is a natural wonder of shorefront on the mid-coast Maine. Stroll 270 acres through spectacular ornamental gardens and miles of waterfront and woodland trails. Beautiful foliage, plantings, impressive stonework, waterfalls and fountains, and scenic views. One of Maine's top attractions. The Gardens are open 9-5 April 15 - October 31 (open until 6 pm in July and August). There is a cafe and gift shop on site.
Visit Coastal Maine Botanical Gardens
---
To share any Boothbay Harbor, Maine information, contact us. Learn more about advertising in MELiving.
Incorporated: 1889
County: Lincoln
Boothbay Harbor, ME Population: 2010: 2,334
GPS Coordinates:
Latitude: 43.871667
Longitude:-69.611944
Boothbay Harbor, ME Local Information:
Boothbay Harbor Police Dispatch: 911
Boothbay Harbor Fire Department: 207-633-7711
Public Works: 207-633-2316
Town Clerk: 207-633-7714
inns | hotels | resorts | rentals | attractions | dining | real estate
SHOP MAINE PRODUCTS

| Photo | Title | Price | Buy |
| --- | --- | --- | --- |
| | Boothbay Harbor Maine ME Vintage Athletic Navy Sports Design Pullover Hoodie | $31.99 | On Sale Now |
| | Our Summer in Boothbay Harbor: The Marshalls Become Maineiacs | $23.25 | On Sale Now |
| | Antiguos Maps Map of Maine: Boothbay Harbor and vicinity - Old Dirigo includes Squirrel Island, Linekin Bay, Southport Island, Lighthouse, etc, circa 1931 (18 inches x 24 inches) | $16.97 | On Sale Now |
| | History of Boothbay, Southport and Boothbay Harbor, Maine: 1623-1905, With Family Genealogies (Classic Reprint) | $23.57 | On Sale Now |
| | Boothbay Harbor Maine Graphic Vintage Retro T T-Shirt | $22.99 | On Sale Now |
| | Boothbay Harbor Maine, Men Womens Hooded Sweatshirt - Pullover Hoodie | $29.95 | On Sale Now |
| | Boothbay Harbor, Maine 3-D Nautical Wood Chart, 24.5" x 31" | $328.00 | On Sale Now |
| | Boothbay Harbor Maine, Est.1666 Shirt - Long Sleeve T-Shirt | $22.99 | On Sale Now |
| | Boothbay Harbor Maine ME Vintage Sports Established Navy Des Long Sleeve T-Shirt | $22.99 | On Sale Now |
| | Boothbay Harbor Maine, Men Womens, Vintage Retro - Zip Hoodie | $29.95 | On Sale Now |
| | Historic Pictoric Vintage Map - Boothbay Harbor to Bath, 1981 Nautical NOAA Chart - Maine (ME) - Vintage Wall Art - 59in x 44in | $239.99 | On Sale Now |
| | Boothbay Harbor Maine Gifts Boothbay Harbor Maine Throw Pillow, 16x16, Multicolor | $22.99 | On Sale Now |
| | Boothbay Harbor Maine, Men Womens Shirt - T-Shirt | $19.99 | On Sale Now |
| | Womens Boothbay Harbor Maine ME Vintage Athletic Navy Sports Design V-Neck T-Shirt | $19.99 | On Sale Now |
| | Historical Map, Boothbay Harbor, Lincoln County, Maine : 1885, Vintage Wall Art : 55in x 44in | $229.99 | On Sale Now |
| | Boothbay Harbor ME Sailboat T-Shirt Vintage 80s Sunset Tee | $16.99 | On Sale Now |
| | 2022 Daily Planner I'd Rather Be In Boothbay Harbor Maine: 6 x 9 inch, 80 pages, Year at a Glance, Month and Weekly Pages with Contact Lists and More | $10.98 | On Sale Now |
| | The Boothbay Region Revisited | $12.99 | On Sale Now |
| | Womens NAUTICAL Anchor Boothbay Harbor Maine Travel Vacation V-Neck T-Shirt | $23.99 | On Sale Now |
| | Boothbay Harbor Maine ME Vintage Nautical Waves Design Sweatshirt | $31.99 | On Sale Now |
| | Boothbay Harbor Maine ME T-Shirt Funny Vintage Beaches Tee | $16.99 | On Sale Now |
| | Historic Pictoric Photo- Old Gas Pump in The Garden of The Chowder House Boat Bar in The Fishing and lobstering Port of Boothbay Harbor, Maine 2 Fine Art Photo Reproduction 32in x 44in | $109.99 | On Sale Now |
| | Boothbay Harbor Maine Boothbay Harbor ME Retro Vintage Text Throw Pillow, 18x18, Multicolor | $25.99 | On Sale Now |
| | Boothbay Harbor ME Vintage Crossed Oars & Boat Anchor Sports T-Shirt | $16.99 | On Sale Now |
| | Boothbay Harbor Maine Boothbay Harbor ME Retro Vintage Text PopSockets Swappable PopGrip | $16.99 | On Sale Now |
Pet Friendly Lodging | Personals
Maine Weddings | Visit Maine Town Guides
New England Living Magazine
Free World Mall

Country Weddings | Travel Destinations