Augusta, Maine 04330
Augusta, ME Real Estate, Travel & Visitor Information
Augusta, Maine is a world-class Capital City where entrepreneurs start, grow, and maintain a variety of businesses. It is full of the best first-rate schools, libraries, and historic and cultural facilities. Visit relax and enjoy all Augusta has to offer. Both sides of the Kennebec River, along Water Street, and throughout the Capitol complex make up the heart of Maine's capitol city.
Augusta was named after the daughter of General Henry Dearborn, Pamela Augusta Dearborn. The Kennebec Arsenal is located in Augusta. This collection of buildings is said to be the best-preserved 19th-century munitions depot in the nation. The eight granite buildings were constructed from 1828 to 1838 along the Kennebec River.  Read about life in Augusta below. To share your Augusta, Maine business information, contact us.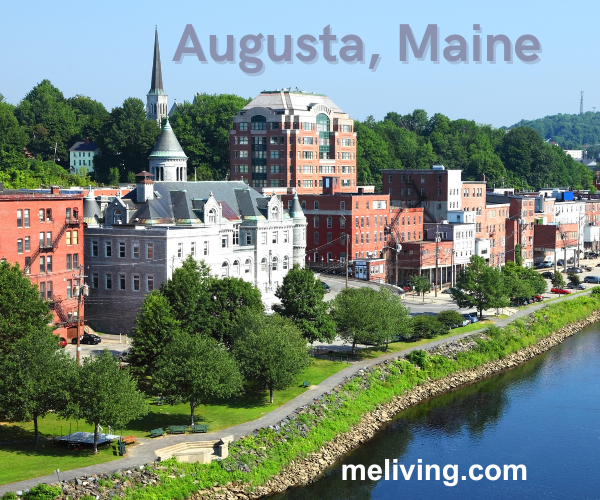 Augusta, Maine: A Captivating City Steeped in History and Natural Beauty
Augusta, the capital city of Maine, offers a unique blend of historical significance, natural splendor, and a thriving community. Situated along the scenic Kennebec River, Augusta boasts a rich history, charming neighborhoods, picturesque parks, and a range of recreational activities. Whether you're a history enthusiast, nature lover, or simply seeking a vibrant place to call home, Augusta has something to offer. In this comprehensive guide, we will delve into the city's history, explore its neighborhoods and villages, highlight its parks and beaches, discuss major employers, and uncover the various places of interest and activities that make Augusta a fantastic place to live or visit.
History of Augusta:
Augusta's roots date back to the early 17th century when it was a trading post on the Kennebec River. In 1797, Augusta became the capital of Maine, which was then a district of Massachusetts. Throughout the years, Augusta played a significant role in the state's political, economic, and cultural development. The city's historic downtown district showcases remarkable 19th-century architecture, including the Maine State House, which is open for guided tours. The Maine State Museum is also a must-visit, offering captivating exhibits that trace the state's history.
Neighborhoods and Villages:
Augusta is composed of several distinct neighborhoods and villages, each with its own character. The Downtown area features a mix of residential, commercial, and government buildings, and it serves as a hub for shopping, dining, and entertainment. The Sand Hill neighborhood offers a blend of historic homes and newer developments, while the tree-lined streets of the Capitol Area neighborhood are dotted with beautiful Victorian houses. Other notable neighborhoods include the historic East Side and the suburban Western Avenue area.
Parks and Beaches:
Nature lovers will find solace in Augusta's abundance of parks and outdoor spaces. Capitol Park, located near the State House, is a popular spot for picnicking and strolling amidst beautiful landscaping. The Kennebec River Rail Trail is perfect for walking, jogging, or biking along the riverfront, while the Viles Arboretum offers serene trails, gardens, and educational programs. For those seeking a beach experience, the nearby Vaughan Woods State Park and Swan Island provide opportunities for swimming, hiking, and wildlife viewing.
Employers and Economic Outlook:
Augusta serves as a regional economic center, with a diverse range of employers contributing to its thriving economy. The state government is a major employer, and the Maine General Medical Center is another significant contributor to the local job market. The education sector, including the University of Maine at Augusta, adds to the city's employment opportunities. Additionally, Augusta benefits from its proximity to major transportation routes and its strategic location between Portland and Bangor.
Places of Interest and Attractions:
In addition to its historical sites, Augusta offers a variety of attractions for visitors and residents alike. The Children's Discovery Museum is a favorite among families, offering interactive exhibits and educational programs. The Lithgow Public Library, housed in an architecturally stunning building, provides a rich collection of books and resources. The Augusta Civic Center hosts concerts, trade shows, and other events, while the Marketplace at Augusta offers a wide range of shopping and dining options.
Things to Do in Augusta ME:
Residents of Augusta enjoy a vibrant quality of life with a range of activities to partake in. Outdoor enthusiasts can explore nearby lakes and rivers for fishing, boating, and kayaking, or take advantage of the numerous hiking and biking trails. Augusta's calendar is filled with community events, including the popular Augusta Arts & Culture Festival and the Whatever Family Festival. The city also boasts a diverse dining scene, featuring local favorites as well as international cuisine.
Town Statistics and Relocation Information:
As of the latest available data, Augusta had an estimated population of around 18,500 residents. The median household income was approximately $45,000, and the median home price was about $150,000. The cost of living in Augusta is slightly below the national average, making it an attractive place to live. For individuals or families considering relocation, Augusta offers a range of housing options, from historic homes to modern developments, and a strong sense of community.
Augusta, Maine, is a captivating city with a rich history, stunning natural landscapes, and a welcoming community. From exploring its historical landmarks and diverse neighborhoods to enjoying the beauty of its parks and beaches, there is something for everyone in Augusta. With a strong economy, major employers, and a range of recreational activities, the city offers an excellent quality of life for residents. Whether you're planning a visit or considering a move, Augusta is a city that will leave a lasting impression.
Incorporated: 1797
County: Kennebec
Augusta, ME Population: 2010: 19,136

GPS Coordinates:
Latitude: 44.323535
Longitude: -69.765261
Augusta, ME Local Information
Augusta Police Dispatch: 911
Augusta Fire Department: 207.626.2421
Town Clerk Telephone: 207-626-2310
inns | hotels | resorts | rentals | attractions | dining |