Maine Statistics
State of Maine Population, Facts and Symbols
Explore state history of Maine, statistics and unique facts. From the glaciers that created the landmass of Maine to the tribes that settled the land and the disputes and settlements of a young state, get the facts, statistics and history that paint a picture of what has shaped the Maine of today. Pictured at left is Maine's State Seal, representing the farmer at left and a sailor at right. The seal was adopted in June 1820, although there were variations in the design up until 1919. Ask us about Maine or share your Maine camping comments. To feature your Maine business, contact us.
Maine State Statistics: Facts & Symbols
 Maine State Flag- Maine's state flag baring the state seal was officially adopted in 1909. The seal is the center of the flag (also pictured above) In the Seal, the North Star hovers above the coat of arms with Maine's motto "Dirigo" meaning "I Lead written underneath. Inside the ornate gold frame is the Moose, Maine's state animal, and the pine tree in reference to Maine's nickname " Pine Tree State". The background is of the same blue as the United State Flag.
Maine State Animal- Moose The moose was designated as Maine's state animal in 1979. Moose can stand up to 6.5 feet tall and weigh in over 1600 lbs. Moose are plentiful in Maine and Maine hosts one of the most active Moose hunting seasons in the United States. Moose prefer a colder climate and live in Northern forested regions in the continental United States, Alaska, sections of Europe and Russia.
Maine State Insect – Honeybee A very important insect to humankind and the pollination of plants, the Honeybee was introduced as Maine's official state insect in 1975. 17 other states recognize the honeybee as an official state insect becasue of the importance it holds for the survival of the natural world. The Honeybee's hive can hold up to 80,000 bees, with one queen who will live up to eight years.
State Cat – Maine Coon Cat One of the oldest cat breed in North America, Maine Coon Cats are known to be hearty large cats with long haired coats and big bushy tails. they can range from 10 to 25 lbs. They are well-suited to Maine winters and have a reputation for their beautiful markings that vary in grays, blacks, whites and orange.
State Fish- Landlocked Salmon These fish are freshwater Salmon and are most prominent in the rivers and lakes of Maine A species found almost exclusively in Maine is the Sebago Salmon, who dwell in Sebago Lake and surrounding lakes and rivers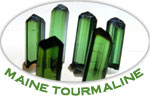 State Gemstone – Tourmaline A mineral gemstone can range in color values from red to white to green and blue. It can be transparent or opaque depending on the cut. The crystal can also be multi-colored and can range in size. Tourmaline has popular use in jewelry for its variance in color and quality of uniqueness and also is used as a therapy stone.
State Berry – Wild Blueberry Maine is the number one wild blueberry producer in the United States. Wild Blueberries have not been cultivated in any way, but left alone to grow naturally. They have been increasing in popularity with the onset of the organic food movement. Wild blueberries grow on hilly and rocky terrain, commonly found in many areas of Maine
Maine Statistics
Maine Population 2010: 1,328,361
(courtesy of 2010 census.gov) Ranked 41 in U.S.
Maine Population 2001: 1,286,670

Admission to Union: March 15, 1820 (23rd)
Capital City of Maine: Augusta
Largest Metro Area: Portland-South Portland-Biddeford; population of 514,098 (courtesy of 2010 census.gov)


Geography and Climate
Humid Continental Climate;
Warm humid summers, cold snowy winters severe in parts of Northern Maine. Check average temperatures
Land Area of Maine: 30,862 square miles Ranked 39 in U.S.
Person per Square Mile: 41.3

Highest Point:Mount Katahdin at 5,270 ft
Lowest Point:Atlantic Ocean at sea level
Did we miss something? Add your update or comment.
Pet Friendly Lodging | Personals
Maine Weddings | Visit Maine Towns
Free World Mall

Country Weddings | New England Recipes
Maine Inns | Red Sox Gifts | Travel Destinations