Downeast & Acadia ME Hiking
Downeast & Acadia, Maine is an ideal place for your outdoor adventure. This region of Maine is partially named after Acadia National Park which is one of the most-visited areas of Maine and New England. The mountains of Acadia National Park, Bald Rock Mountain, and Blue Hill have magnificent views of the Atlantic Ocean. Please share your Maine hiking comments. To feature your business, contact us.
Acadia Downeast Bar Harbor Maine Hikes & Backpacking Trails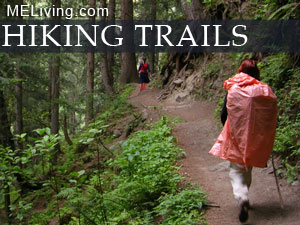 Acadia National Park
P.O. Box 177
Bar Harbor, ME 04069
Acadia National Park has superb mountain/ocean views. Mt. Desert Island's relatively low peaks are well accessed and present little difficulty to hike. Many interconnecting trails and carriage roads provide unlimited options for day hikes. Acadia's 36,000 acres include portions of Schoodic Point and Isle au Haut, which has a trail to the summit of Mount Champlain, with an elevation of 400 feet. Other Mt. Desert Island peaks include Beech Mountain, Cadillac Mountain, Dorr Mountain, Flying Mountain, Gorham Mountain, Pemetic Mountain, Penobscot Mountain, and Sargent Mountain.
Ragged Mountain
Hosmer Pond Road
Camden, ME
Ragged Mountain, known for its excellent skiing, has a trail that follows along the ski lift, enters woods and swings across ledges to the summit. The summit has views to the West Branch trail, returning to the ski slope. From the Snow Bowl to the summit is a 1-mile hike with an elevation gain of 1000 feet.
Bald Rock Mountain
Route 1 & Route 173
Lincolnville, ME
The summit has exceptional views of Mt. Desert Island and Penobscot Bay islands. A well-worn path makes for easy, steady ascent from Ski Lodge Road to the open ledge which is 1/2 mile, gaining 500 feet in elevation.
Blue Hill
Mountain Road between Route 15 & Route 172
Blue Hill, ME
Blue Hill is a dome-shaped mountain whose ledges have great views of Mt. Desert Island and Blue Hill Bay. Follow an unmarked jeep trail through open areas and woods to the unstaffed fire tower at the summit. Base to the summit is 1 mile with an elevation gain of 500 feet.


Downeast - Acadia ME Vacations
inns | hotels | resorts | rentals | attractions | dining | real estate
Pet Friendly Lodging | Personals
Maine Weddings | Visit Maine Towns
New England Living Magazine | New England Hikes
Free World Mall

Country Weddings | New England Recipes
Maine Inns | Red Sox Gifts | Travel Destinations