Aroostook County ME Hiking
Aroostook County, Maine is an ideal place for your outdoor adventure. Aroostook County, at 4.3 million acres, is the largest region of Maine offering a great assortment of quality trails and parks. Hiking is available along the St. John River on the northern and eastern borders, Salmon Brook Lake Bog and St. Francis Road on the southern border, as well as Deboullie Pond and Gardner Pond on the western border. There are multiple trails in the interior of Aroostook County near more than 2,000 lakes, streams, rivers, and ponds that have breathtaking scenery and wildlife. Trails that permit motorized usage include the Heritage Trail, Bangor and Aroostook Trail, and the Aroostook Valley Trail. You will find trading posts in the three main towns of Madawaska, Fort Kent, and Van Buren for supplies. Please share your Maine hiking comments. To feature your business, contact us.
Aroostook Northern Maine Hikes & Backpacking Trails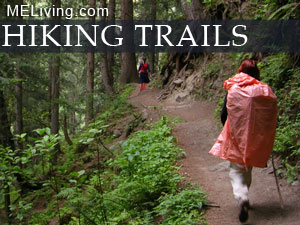 Quoggy Joe Mountain
Aroostook State Park & National Wildlife Refuge
Presque Isle, ME
Quaggy Joe Mountain is a double-peaked mountain, one of Aroostook County's two extinct volcanoes, and sits on the shore of the popular 90-acre Echo Lake. Best views are from the northern peak. Base to northern peak is 3/4 mile and base to southern peak is 1.5 miles with an elevation gain of 600 feet.
Haystack Mountain
Route 163 (Haystack Road), Castle Hill
Mapleton, ME (nearest town)
Haystack Mountain has a picnic area at the base and the trail is approximately 1/2 mile from base to peak. The summit has a nearly 360 degree view.
Deboullie Mountain
VIA St. Francis Checkpoint
Allagash, ME (nearest town)
Deboullie Mountain is a low-rugged mountain surrounded by small lakes and ponds. It offers connecting trails to Whitney Mountain and Black Mountain. A moderate hike starts with a 2 1/2 mile trail around the shore past rock slides or a canoe trip to the base trail, leading to a steep ascent of 1 mile from base to summit. Elevation gain of 800 feet gains spectacular views of north woods and picturesque lakes.
inns | hotels | resorts | rentals | attractions | dining | real estate
Pet Friendly Lodging | Personals
Maine Weddings | Visit Maine Towns
New England Living Magazine | New England Hikes
Free World Mall

Country Weddings | New England Recipes
Maine Inns | Red Sox Gifts | Travel Destinations