Cuckolds Island Lighthouse
The Cuckolds Light and Fog Tower has been signalling a warning to Boothbay Harbor boaters for decades and thanks to the help of many volunteers the light shines on and the fog horn continues to blow. The Cuckolds Light is one of the most photographed in Maine and it is a functioning antique well worth preserving. We are pleased that the historic Cuckolds Light is now operating as a mid coast Maine Inn, and a most unique one at that. Please share your comments. To feature your Maine business, contact us.
Include Me shortcode: file not found
inns | hotels | resorts | rentals | attractions | dining | real estate
Cuckolds Lighthouse History
Originally constructed in 1892 the Light Tower was built in 1907.  The nearest Maine towns are Boothbay and Boothbay Harbor. Cuckolds is located off the southern tip of Southport Island, known as Cape Newagen, in Boothbay Harbor. The Cuckolds Lighthouse and Fog Signal tower height is 48 feet. The Octagonal wood tower is still used as an aid to navigation. The Cuckolds Lighthouse and Fog Station on the National Register of Historic Places.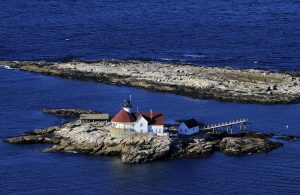 Directions to View Cuckolds Lighthouse
To view from shore: From US Route 1, take ME 27 through Boothbay Harbor, across the swing bridge to Southport Island. Turn left on Rt. 238, Cape Newagen Road, and in about 3.5 miles, follow the sing .2 miles to the"Town Landing" where there is a small parking area. Walk out on the pier for a view of the Lighthouse, about 1,000 yards away.
To visit, by reservation only: From US Route 1, take ME 27 through Boothbay Harbor, across the swing bridge to Southport Island. Stay on Rt. 27 about 4 miles to the Newagen Seaside Inn. Park in spaces designated for Cuckolds Lighthouse. The Cuckolds private launch will meet you at the Inn Dock.
To view by boat: The Cuckolds Light is about 5 miles offshore from Boothbay Harbor. GPS Coordinates: Lat.43 degrees, 46′ 8″N, Log. 69 degrees, 39′ 00″W. Several sightseeing cruise companies in Boothbay Harbor pass the Lighthouse.
Cuckholds Lighthouse
Below you will find links to information about specific Maine lighthouses. Click on the region you are interested in.
Maine Coastal Lighthouse Regions
Pet Friendly Lodging | Personals
Maine Weddings | Visit Maine Town Guides
Free World Mall

Country Weddings | Travel Destinations