Old Orchard Beach, Maine 04064
Old Orchard Beach, ME Lodging, Real Estate, Travel & Visitor Information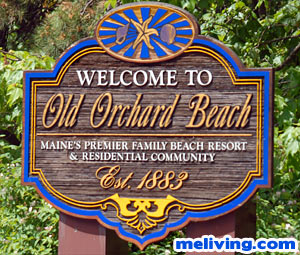 Old Orchard Beach is one of the East Coast's most popular summer destinations. On a hot July day, it might swell to a population of 100,000. With its seven miles of fine sand beaches, seaside amusement park, family and fine dining restaurants, and numerous lodging and camping options.
Old Orchard Maine features a  396-foot pier and local shops.
Old Orchard got its name from Thomas Rogers who had planted an orchard in this area in 1638 and was known as "Rogers Garden." when the town was incorporated the townspeople felt it was only right to name it after the orchards that were here.
To share your Old Orchard Beach, Maine business information contact us.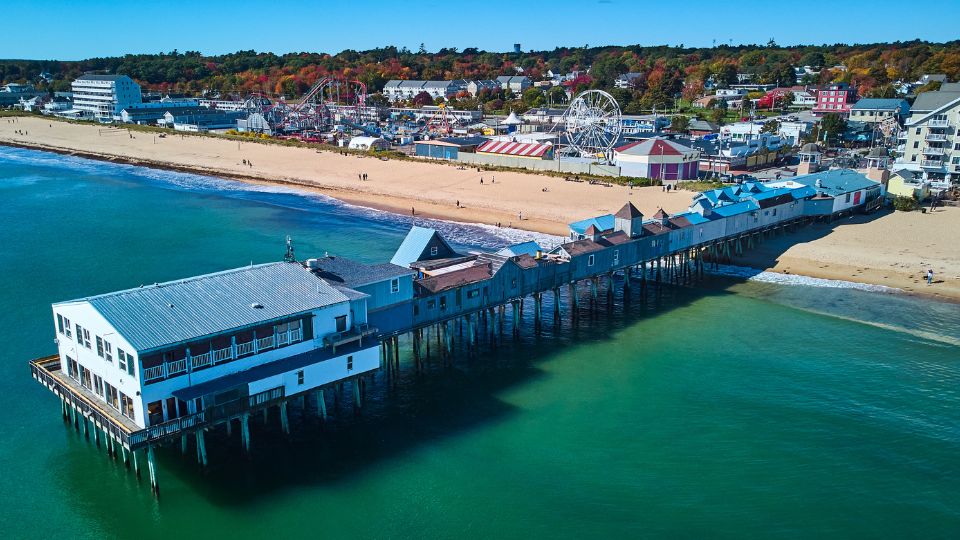 Exploring Old Orchard Beach, Maine: A Charming Coastal Haven
Old Orchard Beach, Maine, is a delightful destination that offers a blend of natural beauty, history, and exciting attractions. With its vibrant neighborhoods, stunning beaches, and rich cultural heritage, Old Orchard Beach attracts visitors from near and far. Explore its diverse neighborhoods and villages, and discover insider information for planning an unforgettable Old Orchard Beach vacation.
History of Old Orchard Beach: Old Orchard Beach boasts a captivating history that dates back to the early 17th century when it was first settled by European colonizers. Originally known as "Shevenock," the town's name was later changed to "Old Orchard" due to the abundance of apple orchards that adorned the area. During the late 19th century, the construction of a railroad line transformed the town into a popular seaside resort destination, attracting tourists from all over. Today, remnants of the town's historic past can still be seen through its charming architecture and landmarks.
Old Orchard ME Neighborhoods and Villages: Downtown Old Orchard Beach: The heart of the town, Downtown Old Orchard Beach, offers a vibrant mix of shops, restaurants, and entertainment venues. Stroll along the lively streets, savoring the atmosphere and exploring the local boutiques and galleries.
Ocean Park: A quaint village within Old Orchard Beach, Ocean Park exudes a serene and nostalgic charm. Known for its picturesque cottages, a historic pavilion, and a beautiful beach, this neighborhood is perfect for a leisurely walk or a picnic by the sea.
Camp Ellis: Nestled at the mouth of the Saco River, Camp Ellis is a fishing village that provides a glimpse into Old Orchard Beach's maritime heritage. Visit the fishing piers, enjoy fresh seafood at local restaurants, or embark on a fishing charter for an authentic coastal experience.
Ball Parks, Beaches, and Recreational Areas: a. The Ballpark: Catch a thrilling baseball game at The Ballpark, home to the Old Orchard Beach Surge. This minor league stadium offers a fantastic family-friendly atmosphere and is a great way to enjoy America's favorite pastime.
Old Orchard Beach: The town's namesake beach stretches for miles along the pristine coastline. With its soft sands, rolling waves, and iconic Pier, it is a popular spot for swimming, sunbathing, and recreational activities like beach volleyball and sandcastle building.
Ferry Beach State Park: Just a short drive from Old Orchard Beach, Ferry Beach State Park offers a tranquil escape amidst nature. Hike through the park's scenic trails, relax on the secluded beach, or have a picnic in the lush surroundings.
Employers and Local Economy: Old Orchard Beach's local economy is diverse and supported by various industries. Tourism plays a significant role, with numerous hotels, restaurants, and shops catering to visitors. Other key sectors include healthcare, education, and manufacturing. The town provides ample employment opportunities for residents and seasonal workers alike.
Places of Interest and Attractions: a. Palace Playland: Located on Old Orchard Beach's iconic Pier, Palace Playland is a vibrant amusement park featuring thrilling rides, games, and delicious treats. It's a perfect spot for families and thrill-seekers seeking an adrenaline rush.
Dunegrass Golf Club: Golf enthusiasts will appreciate the challenging fairways and picturesque surroundings at Dunegrass Golf Club. This 18-hole course offers an excellent golfing experience for players of all skill levels.
Harmon Historical Museum: Delve into Old Orchard Beach's past at the Harmon Historical Museum. Discover artifacts, photographs, and exhibits that showcase the town's history, including its role as a prominent seaside resort.
Nightlife and Entertainment: Old Orchard Beach comes alive at night with its vibrant nightlife scene. From live music performances at local bars and pubs to beachfront restaurants offering delicious seafood, there is something for everyone. Enjoy a romantic sunset stroll along the Pier or dance the night away at one of the town's energetic nightclubs.
Things to Do and Planning an Old Orchard Beach Vacation:
Relax on the beach: Indulge in the simple pleasure of sunbathing, swimming, or enjoying a leisurely walk along the pristine shoreline of Old Orchard Beach.
Explore the Pier: Wander along Old Orchard Beach's lively Pier, lined with souvenir shops, arcades, and restaurants. Don't forget to try some classic carnival treats like cotton candy and fried dough.
Visit nearby attractions: Take advantage of Old Orchard Beach's prime location and explore nearby attractions such as the historic city of Portland, the picturesque town of Kennebunkport, or the scenic beauty of Acadia National Park.
Plan for seasonal events: Old Orchard Beach hosts various events throughout the year, including summer concerts, fireworks displays, and the annual beachfront sand sculpting festival. Check the town's event calendar to make the most of your visit.
Town Statistics and Relocation Information: For individuals considering relocating to Old Orchard Beach, the town offers a welcoming community, affordable housing options, and a moderate cost of living. The town has a population of approximately 10,000, with a slightly above-average median household income. It boasts excellent schools, healthcare facilities, and easy access to major transportation routes, making it an appealing place to call home.
Old Orchard Beach, Maine, offers a captivating blend of history, natural beauty, and exciting attractions. Whether you're seeking relaxation on the beach, exploring the town's charming neighborhoods, or enjoying the vibrant nightlife, this coastal gem has something to offer every visitor.  Visit Old Orchard Beach and embark for a memorable seaside adventure in this enchanting Maine town.
Incorporated: 1657
County: York
Old Orchard Beach, ME Population: 2010: 8,856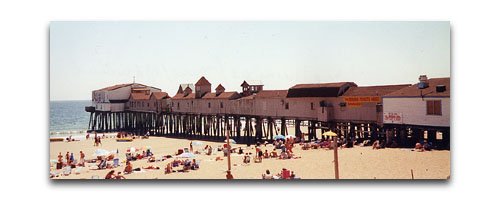 GPS Coordinates:
Latitude: 43.513611
Longitude: -70.385278
Old Orchard Beach, ME Local Information
Old Orchard Beach Police Dispatch: 911
Old Orchard Beach Fire Department: 207-934-5714
Town Hall Telephone: 207-934-4911
inns | hotels | resorts | rentals | attractions | dining | real estate
OLD ORCHARD BEACH ME GIFTS

| Photo | Title | Price | Buy |
| --- | --- | --- | --- |
| | Large Framed Wall Art Ready to Hang 20" x 40" The Atlantic Ocean and pier in Old Orchard Beach, Maine. Canvas Print Artwork Wall Art Painting Pictures Home Office Wall Décor Modern Poster | $79.99 | On Sale Now |
| | Old Orchard Beach Maine ME Vintage Graphic Retro 70s T-Shirt | $16.99 | On Sale Now |
| | Old Orchard Beach Maine ME Vintage Sports Design Navy Print T-Shirt | $16.99 | On Sale Now |
| | Old Orchard Beach Maine Vacationland Seafood Lobster Zip Hoodie | $33.99 | On Sale Now |
| | Old Orchard, The (ME) (Images of America) | $24.99 | On Sale Now |
| | Baggallini Everywhere Bagg - Hobo Crossbody Bag for Women with RFID Wristlet – Water-resistant Travel Bag | $82.50 | On Sale Now |
| | SuperHandy Utility Service Cart Power Wagon Wheelbarrow Electric 48V DC Li-Ion Powered 660Lbs Load and 1000Lbs+ Hauling Capacity Farm and Garden All Purpose Modular Cargo Bed | $1,249.99 | On Sale Now |
| | 3dRose Old Orchard Beach, York County, Maine. Summer Beach Memorial Gift - Puzzles (pzl-364555-2) | $14.49 | On Sale Now |
| | Umsufa Old Orchard Beach Maine USA America Christmas Ornament Xmas Tree Decor Ceramic Ornaments Souvenirs Gifts Double Sided Porcelain Pendant | $12.89 | On Sale Now |
| | Old Orchard Beach Photography, Old Orchard Beach Sunrise Photo Print, Coastal Maine Wall Art, 8x10 to 24x36 | $35.00 | On Sale Now |
| | College Style Old Orchard Beach Maine Souvenir Gift Pullover Hoodie | $39.99 | On Sale Now |
| | Old Orchard Beach ME Hoodie for Women & Men | $37.75 | On Sale Now |
| | OOB Old Orchard Beach Maine Pier Boardwalk Ocean Sand Adults T-Shirt | $16.99 | On Sale Now |
| | Old Orchard Beach Maine Gift Souvenir OOB Pier Shoreline Tank Top | $17.99 | On Sale Now |
| | Historic Pictoric Photo - Crammed Commercial pier in Old Orchard Beach, Maine- Fine Art Photo Reporduction 24in x 16in | $49.99 | On Sale Now |
| | Womens City of Old Orchard Beach Maine | ME Novelty Merch Gift - V-Neck T-Shirt | $19.99 | On Sale Now |
| | Womens Old Orchard Beach Maine Gift Souvenir OOB Pier Shoreline V-Neck T-Shirt | $15.99 | On Sale Now |
| | OOB Old Orchard Beach Maine Pier Boardwalk Ocean Sand Adults Long Sleeve T-Shirt | $22.99 | On Sale Now |